Married!
October 27, 2012 @ 10:10 pm 🔗 Post Link
bdot, Fall, Family, food, friends, Wedding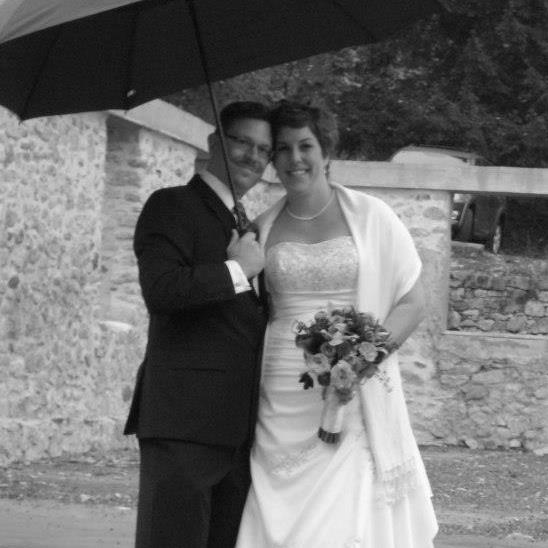 I'm married!
Wow…. what a day. It was unquestionably one the most emotional days I've ever had. So much happened… I'm sure I'll be updating this entry numerous times. But here is a start.
Friday bdot and BBB went to Orangeville to pick up the rings and chocolate. Meanwhile KK and I loaded up the booze and mix. Everyone met back at our place in Bolton then we went to the mill to drop it all off. After unloading we went across the street for dinner at Ray's Bistro. Dinner was incredible and there was an acoustic guitarist playing all sorts of oldies. After the delicious KK and I went back to Bolton while Bdot and BBB stayed at the Millcroft. I saw bdot for the first time on our wedding day at the Millcroft's Manor House outside on the porch around 1:30pm. She looked absolutely stunning and I was speechless for about 40 seconds. We then took photos around the Millcroft fountain then drove over to the Mill. Where the ceremony was going to be held was decided Friday night. We originally thought of having the ceremony outside in the Annex Courtyard. After consideration, we thought it wasn't private enough so then we had settled on the Waterfall Courtyard. Well, the weather largely did not make a outdoor wedding possible. It was raining off and on and it was single digit cold so the outdoor wedding ceremony was dropped. That wasn't much of a hardship however. The indoor backup plan always the gorgeous Paul Morin Gallery with its high ceiling, massive windows and view of the pond. It is an amazing space.
We had around 50 guests attend the ceremony which started just after 4pm. It was a non-religious ceremony that focused on the values of marriage and love. Our music was Piano Guys Rockelbel's Canon. The video ironically at a wedding ceremony. *snort* I was first to enter meeting my best man and giving my nephew a high five. I was incredibly nervous. I get chatting and do odd things when I get nervous. After bdot entered I met her half way down the aisle. Then our officiant took over and talked for about 10 minutes. We both wrote our own vows.
Mine to bdot:
Barb, my friend, my companion, mon petit chou, my Love.
As the seasons change I await walking beside you hand in hand.
Wherever our Life takes us, I vow to be your partner.
Together hiking through Life's Vistas and Valleys,
Always having each other to hold onto.
And bdot's vows to me :
Dave, you have been my best friend and biggest supporter for the past 9 1/2 years. I want to thank you for loving and accepting me for who I am, for your support and patience. You make me laugh, keep me balanced (mostly) and are an amazing partner. I promise to love you, respect you and to be the best partner I can be. I promise to always remember what has brought us here today – love, friendship and trust.
The ceremony was less than half an hour, but it often felt like it was moving in slow motion to me. I figured the vows were going to be difficult for me to say, and they were. I had to stop several times and use several Kleenex. But we both got through them and were pronounced man and wife. We did a celebratory high-five.
After the ceremony our guests when downstairs for cocktails in the Bartlett Gallery. We stayed upstairs for a bunch of family photos then outside for photos… then finally caught the last 30m of our cocktail reception. It looked like our guests were having fun. Shortly the party moved downstairs for dinner. We didn't originally want to do a grand entrance then we heard this Barry White intro and it changed our minds. We thought it was hilarious.
The dinner space downstairs was decorated in our bird/votive theme with beautiful mostly purple flowers from Flower Workshop. Our amazing catering was provided by Gourmandissimo. The entire evening the catering staff's attention to detail was brilliant. The food was delicious and everything ran perfectly. Our MC was Buck, Bdot's Best Woman's husband who did a great job balancing humour and formality. There were a few short speeches during the evening from my Dad, Bdot's sister, Bdot's friends, BBB and KK in addition to an e-mail reading from my former neighbour Big Jeffer. All of the speakers delivered their personal thoughts, stories with warm emotion and were truly touching.
After dinner our first dance was by the Honeydrippers Sea of Love. Awww, sentimental, slightly cheesy and completely awesome. Then our DJ Laura brought the rock for the rest of the evening. There were numerous 'sets' of music… including a few kick ass Ska sets, lots of dance, Rock and slow songs. The music was spot on the entire night. People danced all night and by 1AM we still had the dance floor packed! This makes me so happy because it means to me that A) our guests were having a good time and B) the music was good… And I wanted the music to be really good.
Bdot and I were the last to leave. My feet hurt for two days after the wedding.
We spent Sunday at the Westin in Collingwood. The room was BBB's gift to us. The room was awesome. I'm getting tired and running out of adjectives to describe how impressive everything was. More to come.