Zing it's September
September 4, 2012 @ 11:09 pm 🔗 Post Link
bdot, Family, food, friends, PC gaming, cabbage rolls, Flapjacks, Snow White and the Huntsman, Warcraft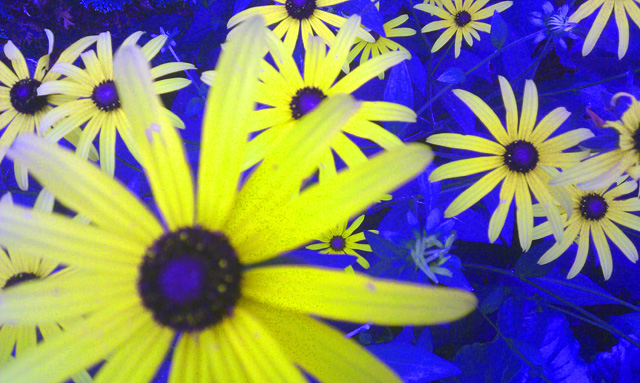 Wow, that long weekend zipped by quickly, or so it seemed. We had family over Saturday, so Friday night and Saturday morning we were in full on house cleaning mode. I got home early Friday which was good but only to begin the cleaning process which was bad. [sad horn] I guess having company over forces us to clean at least. My parents arrived early in the afternoon on Saturday. They brought a bunch of yummy food including homemade cabbage rolls and pierogi. We talked for awhile and I updated my Dad's K1 tablet BIOS to Android 4.0.3 (the final build for that tablet it seems) and it works quite well. One thing I haven't figured out is why some apps are no longer compatible with the update. For example, Angry Birds no longer comes up as installable in Google Play… It works fine in 4.0.3 on my tablet, and it worked fine on the K1 prior to the update… so, I can't imagine why it wouldn't work… I just haven't figured out a way to force an app on there. *shrug* I'll keep looking. The BIOS update, IMHO, is worth a few minor headaches. My parents also brought over all my old photo albums. It is strange looking through photos in a book. I'm so used to seeing them digitally now. Wow… I had some seriously bad hair in the 90s and my goatee was so fracking ugly. Gah. Would have been nice if someone gave me an intervention.
The plan for the afternoon was to meet at Dufferin Glen in Orangeville hit a few practice balls then play 9 holes of best ball. I'm really wondering about my game. When I practice my shots are consistent and reasonably reliable… when I hit on the course… disaster. Balls were slicing and duffing all over. Meh. Still, best ball is always fun and eventually everyone gets one of their shots used. Interestingly, the men and women ended up with the same +3 score. Huh. It was another scorcher of a day. The sun was pretty unrelenting the entire afternoon. I found some sort of nasty allergen wandering in the forest looking for a ball that rashed my arms up. It eventually went away but seemed to exacerbate my existing horrible congestion.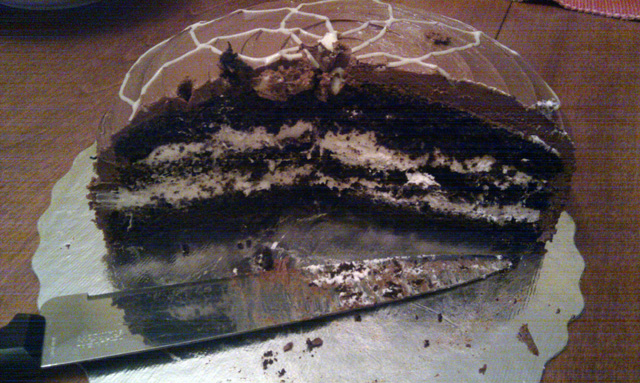 We destroyed the big pot of cabbage rolls my Mom brought for dinner… We ate them all. Clearly everyone recognized they were an especially good batch. Dessert was another Cappuccino bakery cake. Here, just take my paycheck! Everyone was happy to crash after dinner on the couch and watch a movie. My dad wasn't feeling well so instead he crashed in the living room for a nap.
I had a rather poor copy of Snow White and the Huntsman which we still agreed to watch. It was okay. A dark somewhat Gothic take on the old tale and Charlize Theron was impressive as the megalomaniacal wicked Dark Queen. I was a little underwhelmed with the casting of Kristen Stewart as Snow White. Sorry, she is cute and all, but hardly worthy of fairest in the land when the land includes Charlize Theron. The plot bounced around a lot and also dragged at times. It often felt like it was being stretched to make a full length movie. I'm curious how much more enjoyment a perfect HD copy would have provided. The creepy settings often seemed rather impressive. ⭐⭐⭐
I was a little surprised to see my sister and BiL leave after the movie. It was well after midnight and they were offered a bed. Oh well, I guess the princess didn't want to feel the pea. It was a fun evening lots of Wordfeud and Words with Friends and good food.
Sunday morning my parents, bdot and I decided to have breakfast at the restaurant formerly known as Flapjacks on HWY 10 south of Orangeville. I think it is called Caledon Family Restaurant or something equally uninspiring. The food however remains really good and clearly all of Caledon knows this. There was a line up of people out the door to be seated and there was never an empty seat the entire time we were there. We waited longer than I've ever had to wait for the food to come. I was pretty close to eating the salt and pepper. Breakfast was worth the wait and I felt like a fat bastard when I was done. I ate like a Marine and left nothing behind. *smirk* After breakfast my parents agreed to visit the wedding venue since it was only 10m away. So back to the Alton Mill we went. It was curious to see my Mother's reaction to the venue. She quite liked it… It is stone and glass and wood and artsy. I don't think everyone will enjoy the venue like we do. But I love it. We have decided 100% to move the ceremony to the Falls Courtyard. It will be noisy for sure, but private, convenient and intimate as well…the trade off was too good to pass up. Mom said she liked the venue.
After the Mill, bdot and I ventured over to Upper Canada Mall in Newmarket. On the agenda was finding a suit for the wedding and checking out mattresses. Our bed is getting close to 10 years old and is visibly sagging and not providing proper support. Bdot is constantly dealing with various levels of back pain; so although the timing sucks, I think we will get a new mattress. Bdot already did a bunch of bed research so she had a specific bed in mind already which was on sale for the lowest price it has ever been at Sears. I don't care so much what we get, I can sleep on the floor with a blanket. As for my wedding wardrobe, we ruled out tuxes pretty quickly… A full formal tux isn't really us and renting one for ~$200 is a hard pill to swallow. So we looked at buying a suit. Thankfully KK was down with this idea. We found a sharp black Nautica suit at the Bay. KK drove up to Newmarket and we agreed to look smashing at the wedding dressed in the suits. Now if only bdot could settle on a tie. *eyeroll* After suits were acquired we ventured over to Starbucks to caffeinate, hydrate and snack. Well, only KK's daughter snacked. In the process of trying on suits all day I've discovered I really am a fat bastard… I think I've gained *gasp* close to two pant sizes. Which is the biggest I've ever been. So I'm going to have to cut down on my sweets. Ho-hum. It is going to require a real effort to fight my sweet tooth and aging to maintain my ideal weight range. Granting I'm up maybe 15 pounds but weight loss isn't something I'm very familiar with. Sunday felt like a long day with lots of running around. I fought a headache most of the day as well, so I was glad to get home and do nothing in the evening. Bdot had some undetermined severe back pain/spasm that kept her up most of the night, she is speculating it could have been a kidney stone. She was close to going to the emergency room because the pain was so severe. Whatever it was, it is a horrible feeling being helpless to help your spouse who is in pain. Sigh.
Monday was a down day for both of us. Especially for bdot after the night she had. I did some gaming and office organization and not much else. I spent a fair bit of time trying to track down my copy of Windows 7 Professional that I bought… but I have no idea WTF I did with it. I searched the entire office and went through hundreds of DVDs and CD and scanned all my drives. Nothing. Sigh. So the reason Ubuntu can't share with Windows 7 is due to the version of Windows 7 that I'm running. This is driving me fracking crazy. I'm looking into a way to fix this frustration.
While searching through all the disks, I watched Midnight Son. A curious modern addition to the vampire movie genre. It was engrossing and well acted… but I'm still not sure what I think of it overall. I guess I'd rate it somewhere between a 3 and a 4 so… I'll settle here: ⭐⭐⭐½ I can't pinpoint my reluctance to rate this film higher, it was a solid film. *shrug*
I also played a bit with Steam and Origin, both are full of new games, demos and downloads. I test drove a MMORPG called War of the Immortals which was visually good but the gameplay and quests were confusing.
I also put the final nail in World of Warcraft's coffin by deleting it off my system. I played for a bunch of years and it was fun to play solo but I haven't played for months and my enjoyment was fading. Eventually when you hit the top level in WoW you are forced to play with other players in order to gain the best gear. Co-operative play can be a ton of fun, WHEN IT IS CO-OPERATIVE. Unfortunately it never is in WoW. I could never find anyone I enjoyed playing with. I really believe there should be a player personality rating that rates +/- how a player interacts. I always found pickup group (PUG) players were always impatient and assumed you should know everything about the dungeons and quests. It was common to get kicked for making mistakes or not understanding a battle. Players were largely uncooperative if not downright belligerent and abusive. It was rare to find someone helpful and friendly. Everyone wants a quick run through an instance and no one wants to help. But how do you learn then? I was also in a bunch of guilds and I didn't enjoy the atmosphere in any of them either. Either there was no communication and nothing going on, the guild was dead; or it there was a select group who always played together and never did anything with the noobs. Why the hell would I pay for this? I don't know how Blizzard can moderate the behaviour of people on its servers. There are idiots everywhere online. But if they want to keep people playing they need to figure something out…
Tuesday morning back at work and kids are back to school. Everyone welcomed with a cool, dark day full of thunderstorms and rain. Huzzah! Holy crap is it ever quiet here at the office. No phones ringing, no one talking, just the repetitious sound of keyboard typing… very creepy.