Golden Ski
February 9, 2014 @ 08:02 pm 🔗 Post Link
Canada, sports, rush, Sochi 2014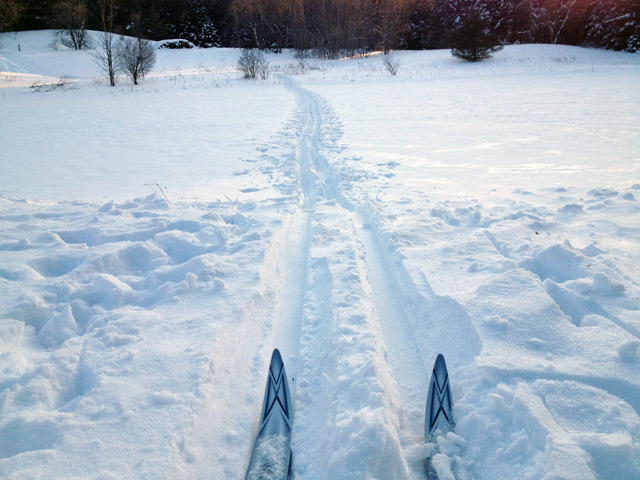 Skiing in Palgrave. Lovely day for it.
Canada three medals today. Gold and silver for the incredible Dufour-Lapointe sisters.
Saturday night we watched Rush. (No not about Geddy, Neil and Alex) It must have been good otherwise I likely wouldn't have sat through a movie about cars. *yawn* Not surprisingly however, Ron Howard was able to spin it into an engaging story 'of a great sporting rivalry between handsome English playboy James Hunt (Hemsworth), and his methodical, brilliant opponent, Austrian driver Niki Lauda (Bruhl). The story follows their distinctly different personal styles on and off the track, their loves and the astonishing 1976 season in which both drivers were willing to risk everything to become world champion in a sport with no margin for error: if you make a mistake, you die.'(from IMDB) True enough. The contrasting personalities were interesting, but the suicidal conditions the Formula-1 racers would race in… were ridiculous. Racing in a downpour? Wow. The historical, factual stuff I always find interesting. ⭐⭐⭐½
Sunday we went on a rather long snowshoe. Snowshoeing is much more strenuous than Cross-country skiing. Legs feel like logs today, even with a long hot tub soak. We have both been watching a fair bit of the Olympics. Canada is off to a great start! That downhill ski course. Holy sh*t. The 'mountain' is higher than the CN Tower, mostly ice and they hit speeds OVER 130 km/h. I don't think they ski down the hill, they try to not die down the hill. Unreal. Men's hockey starts Thursday!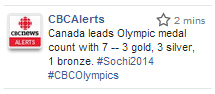 Medal count update: