Another year passes
January 3, 2014 @ 10:01 pm 🔗 Post Link
caledon, Family, food, stuff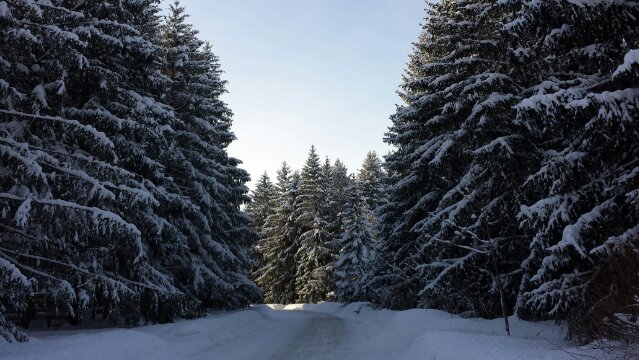 We spent New Year's Eve at my sister's in Horseshoe Valley. It is remarkable how much more snow they have than we do in Caledon. We made a few stops on the way up. Stopping at the ridiculous Vaughn Mills – which is always a zoo. We were looking for a Winter jacket for me. First however, I used a gift certificate from my birthday to buy a pair of ice skates. It was quite a process to be fitted but the skates are pretty awesome. That said, I've been using bdot's cast offs and I'm not much of a skater. There were slim pickings for jackets. I did find one at Bass Pro… but we are returning it… it was pricey so we'll look for a cheaper jacket. Sushi lunch at Kyoto was a little treat.
We picked up dinner fron Tara in Barrie which was awesome. Even though they forgot the Tandoor and Bdot and JP had to drive all the way back to Barrie to get it. The plan was originally to see Hunger Games: Catching Fire but everyone was equally content to sit around and watch a few movies at home. Unfortunately the movies weren't very good: Red and Man of Steel. Fortunately the beer was! JP (and Bdot) shared a Nickel Brook Maple Porter, Unibroue 17, Lake of Bays China Wall and Young's Double Chocolate Stout. All the beers were tasty, with special note of the tasty Double Chocolate Stout and the curiously sweet flavoured 17.
The evening was fairly somber and no one cared to note the time to usher in the new year. I started the morning with coffee on an empty stomach. That turned out to be a mistake. I was already not at best after the night's indulgence, the coffee just made it worse. Bdot, JP and my sister ventured out snowshoeing for a good 90m+. I forced myself up and took the dog around my sister's block. It is a beautiful subdivision. The pines along parts of the street are impressive. Curiously I felt find walking outside despite the cold. We ended up staying for dinner and seeing Catching Fire in the evening. It was a very entertaining film and Jennifer Lawrence was once again stellar in her role. I'll certainly see the final movie once it is released.
We did a little bit of running around today and returned a bunch of stuff that didn't work out from Christmas. It meant another trip to Vaughan Mills, but it wasn't too bad today. We did find a cheaper jacket at Sail… the colour isn't great but it should be warm and was significantly less than the jacket we found at Bass Pro. Bdot made to the end of season one of Game of Thrones tonight. I wonder if she'll get caught up in time for season four…