Hens and hockey
December 2, 2013 @ 10:12 pm 🔗 Post Link
bdot, Family, food, hockey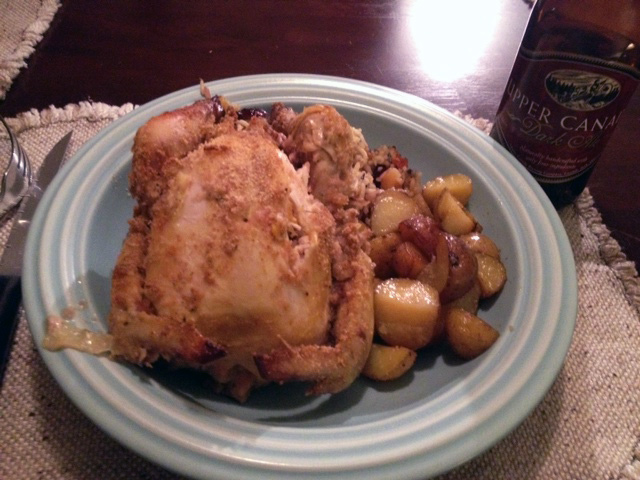 The Leafs and Sabres played Friday so nIVEK and his son came over to watch the game. Well, that was the intention. We ended up playing a lot of table-top hockey and his son followed my cat around the house. It was nice to have company to watch the game. Especially since the loser Leaf fans who littered the ice with cans went home after a loss. I really wish Sabres' fans would stop selling their tickets to these buffoons. It is sickening to see them all at a 'home' game.
Saturday we celebrated the Fall/Winter birthday's at my sisters. On the way up bdot finally got a bunch of maker stuff (art supplies and yarn) so she should be occupied for awhile. We also picked up a cute round ottoman for the fireplace room. The room certainly gets more use in the Winter. So now that there are two chairs and ottoman's in front of the fireplace, the room should have activity all the time. Interestingly, the dog, who never took any interest in laying in front of the fireplace, has suddenly decided to this year. Much to the shagrin of remicat. She seems lost with the dog 'in her spot'. Funny animals.
When we arrived at my sister's they were out picking up a new car. Last week my sister creamed a deer (she is fine – the deer is not) and the car was a write off. They ended up getting a really nice Kia Soul. The brother in law took us for spin in it and it is a lovely car. We test drove it years back when we ended up buying the Subaru. It seems (at least the one they got) was much more refined. The version we test drove felt rather plastic-y, my sister's is sharp, with tons of features. There is also a ton of space in the back of the Soul. It looks kick-ass in black too. It might be on the list to revisit. We should be replacing the Vibe in about 6 months or so.
Dinner was awesome. For something different my mother made Cornish Rock hens stuffed with rice. Yum. After the breast meat however it did turn into a bit of work to pick out the meat. I'm rather particular however. Dessert was the always satisfying limoncello cake from Cappuccino Bakery in Nobleton. I think that place must be raking in the money. It is always busy. I got a great gift of a gift certificate that will allow me to get a new pair of skates. Bdot and I often skate on Palgrave pond but I'm using her old skates so they are very uncomfortable to use. So that will be a nice upgrade. While putting candles on the cake my Mother asked if they were edible. They looked liked jelly or lifesavers. Two minutes after she asked, I walked into the kitchen and asked the same question. And I always thought those genes were from my Dad….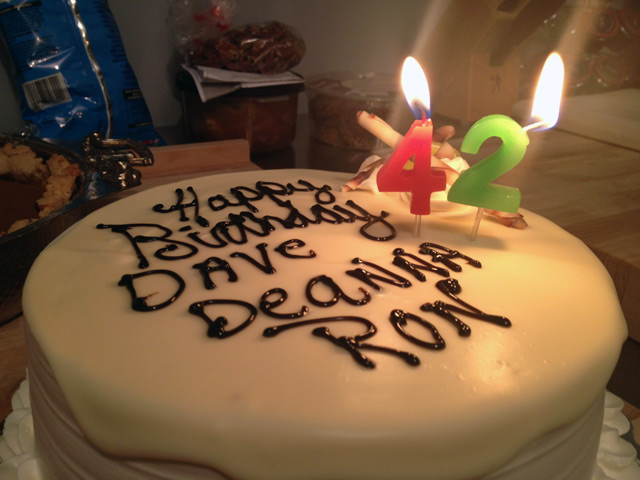 I spent some of the night on the couch with my sister's dog Willy. I'm not sure what they did to her… She looked like a snake that just ate a boar. She usually has much more energy. I took advantage and used her as a pillow. It was good to see everyone and we had a fun night.
Sunday was running around and housework. I got groceries and bdot did some shopping. When she got home she finished the outside Christmas lighting. The house looks pretty impressive now with lit up urns and white lights that wrap into the backyard. Ho-ho-ho!