Got Words?
March 6, 2014 @ 06:03 pm 🔗 Post Link
bdot, Family, Buffalo Sabres, sports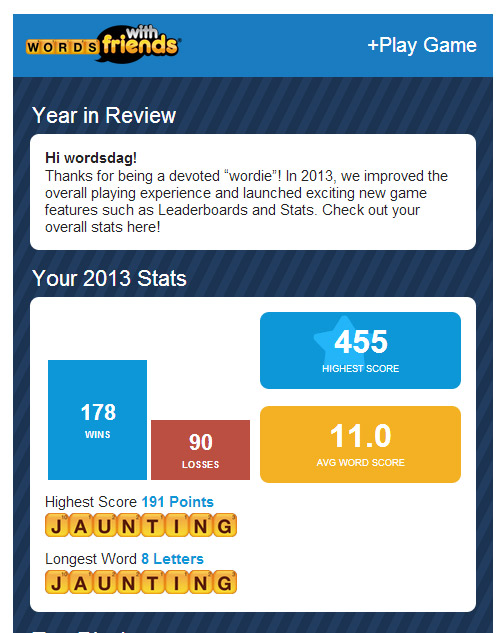 Yes I play a lot of WWF.
It's been a quiet week. I skipped hockey again. After getting home late, shovelling the driveway and making dinner the thought of getting back in the car for another 40m was really undesirable. So we've spent a lot of the week nights hibernating. We don't have the option of heading South like my parents who have gone south to the Carolinas. They never phone so it is nice that they have tablets. Now I at least get the occasional acknowledgment that they are still alive. Curiously most of my chatting with my mother is via WWF chat, even though she has Skype installed. I guess whatever works, always nice to hear from them.
Somehow bdot has managed to wreck her back again. Maybe a slipped disc in her back. I'm not sure, but she is in a lot of discomfort and frustration. Aleve doesn't help. Hopefully this passes soon. She is very unhappy with the situation.
Ahh the Sabres. Trade deadline has finally passed and more talent is out the door. Sabres said goodbye to Halak and Moulson. Both of which I would have signed. I guess there is the outside chance if Moulson wasn't joking about likely Buffalo that he could still sign with them in the summer. We'll see. Sabres' team president Ted Black was on WGR this morning with his usual spiel about accumulating draft picks, patience and the long term plan to create a winning team. I guess when you are last the only direction is up. I guess the plan makes sense. Yes, it sucks, but building a real contender means having a solid core of guys that can play together for 5-7 years. So they have to be drafted. The Sabres have picks aplenty. I think once a few drafts go by the expectation will ramp up dramatically in Buffalo. I sure hope Tim picks well…