Finally Fall
October 9, 2012 @ 10:10 pm 🔗 Post Link
Fall, Family, home, Dexter, Rolling Meadows, Wedding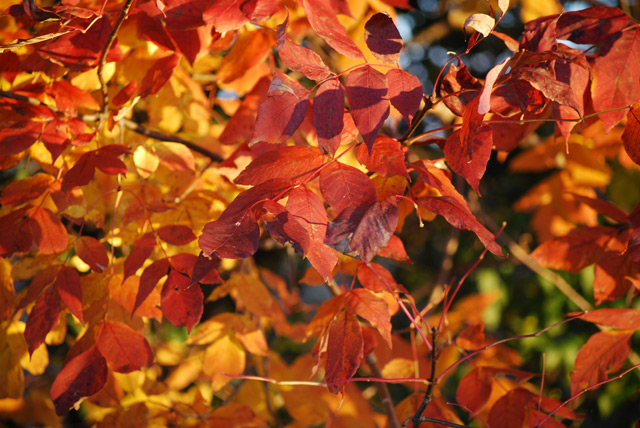 The Wedding is now less than a week away. It has been a remarkable amount of work to organize it. There have been numerous details and issues to deal with… I wonder if we've unnecessarily burdened ourselves by the level of attention we have undertaken. Will our guests even notice? Does it even matter? And my poor wife-to-be, she obsesses over details to a painful level for herself. I'll be happy if everything runs smoothly the day of. It is currently looking like it might rain. If it does, hopefully it will be brief. Rain isn't the end of the world… but it would certainly be better to have the option of being outside. That was always our intention. I'm a combination of tired and excited… I'm hoping bdot can keep it together. She has a few tasks only she can complete and she is feeling the pressure of the deadline approaching.
It was Thanksgiving weekend in Canada this past weekend. Bdot and I went down to Niagara to meet up with my parents for dinner and golf. Regrettably my sister decided not to come… Luckily she was home however since one of her dog's was experiencing seizures. The tests didn't turn up anything but it is still disturbing to see your pets in that state. Hopefully that will be resolved but the dog has had some sort of issue since day one. After arriving in St.Catharines we left to golf immediately. We were off to Niagara Falls to play at Rolling Meadows. I've never played the course before so I was looking forward to seeing a new course. It was very challenging…. it had rained earlier in the day so the grass was very wet. Shots along the ground (wormburners!) would get very little distance and it was single digit cold. While we were enjoying the course, the conditions were simply not fun to play in. We planned on golfing 18 but stopped after 9. It was simply too cold for my parents. Fortunately the staff at Rolling Meadows gave us a generous extended raincheck… so we will be back! I was happy with my play. I had a few nice putts, chips and drives… I was on pace for around 90, which for me, is pretty good.
After golf, bdot and I went to the Pen Centre in St.Catharines to deal with a few last minute wedding issues. I picked up two pairs of shoes, one really formal pair for the wedding and some incredibly comfortable Clarks. Interestingly I had two pairs of shoes picked out in 20 minutes. Yes women, it is possible. 😛 After finding shoes (phew) bdot looked at winter jackets until the Bay closed. She did find a Winter jacket after an exhaustive search. I've been looking for some fun socks to wear to the wedding, so far I've found nothing… it is looking like boring black for me. Ho-hum. After closing the Pen Centre we drove back to my parents for a yummy turkey casserole dinner. My Dad asked me to build him a computer a few weeks back and I brought his new toy over on Saturday. There was some annoying reconfiguring but everything was running well by the time I left. He is now running Windows 7 instead of XP so hopefully he'll get a handle on the differences. The day felt somewhat rushed unfortunately… we rushed to get down to Niagara, rushed on the golf course (we had tournament players up our ass the whole front 9), rushed to shop… Ugh.
Sunday we drove up to Orangeville to get the wedding booze. First however we stopped at the Spirit Tree Cidery for lunch and to pick up Wedding cider. Lunch was a little pricey but delicious. We both wondered if we entered the Twilight Zone… Within an hour we saw two people walk right into the Cidery with dogs as if they were at home. If you haven't been into the Cidery there is food out everywhere. Who the hell thinks it is okay to bring a dog into, what is essentially, a restaurant…*headslap* Seriously humans. Give your head a shake. No longer starving we headed up to OV to get the booze. The LCBO staff were very helpful and offered a lot of useful advice as we were picked out our liquor. Finally someone told us that you have to get beer from the beer store and liquor from LCBO… You can't get beer from the LCBO if the Beer store stocks it. I thought that was odd. The LCBO does carry a lot of beer. Oh well. We were the last ones leaving the Beer store but got all the suds for the Wedding. We were hoping to try Rickard's Cardigan but it was completely sold out. *Eyeroll* Once we got home I enjoyed most of a bottle of Mukoka's Harvest Ale… It was quite delicious.
Monday started with yardwork for me. I finally dealt with the massive pile of leaves that covered the frontyard. Mulching leaves is more work but wow does it reduce the number of bags… I bet it saved me 7-8 bags… which is good because I ran out of them! I also cut the lawn. The yard now looks ready for the Wedding. *smirk* After dealing with another round of new computer issues with my Dad we finally got out for a dog walk. We had lofty ambitions of a nice Bruce Trail hike but by the time we got out the door we had to settle for something closer. On Saturday when we drove up to the Cidery we discovered where the 'badlands' are located. Apparently everyone in Caledon but us knew this location because it was rammensteined with people. There were cops and bi-law officers… both of which I'm sure made a mint… We thought about returning here to walk the dog, and passed by it Monday only to find it was still rammed… Blah. After getting through a 'traffic jam' we settled on a less exciting railtrail walk.
Wow. The Bills suck.
Just finished Dexter season four. Yes I know I'm behind. 😛 I can't believe they killed Rita off. *frownyface*