Tech Upgrades
March 21, 2022 @ 07:03 pm 🔗 Post Link
Wordpress, WIFI, Geeky, Ubiquiti, Home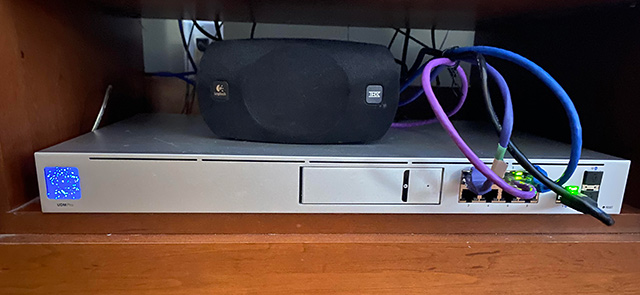 So our Rogers WIFI modem, the ancient CODA-4582U was overwhelmed to put it mildly trying to support our WIFI needs. It would literally shutdown or reset. With two people working at home and a house full of smart devices, um, this was not good. Bdot's boss recommended we look at some Ubiquiti tech. So far, it was a great recommendation. We upgraded out setup with the Dream Machine Pro and a Flex HD to provide WIFI to the house. And by god! it does! Sure the upstairs isn't full signal, I wouldn't expect it to be... But it reaches and powers everything! The software/hardware integration is incredible. I had new WIFI up and running in 15 minutes. Both the app and the web client provide incredible insight into our network. So far it has been an incredible transformation! In case it isn't obvious... the blog is back on Wordpress! I randomly decided to try and reinstall Wordpress on my Synology NAS and today it installed without issue. So I'm VERY happy to say I have been able to restore years and year of old blog posts! WOO! The Wordpress isn't spot on, it will certainly need some tweaking but the content is back!
Update:
Added my favourite random background script to the blog. It pulls a random background from unsplash.com with the tags: 1600x900 black, white and landscape.
Update:
Watched a video where some poor sod got a DDos attack and he recommended routing your domain traffic through cloudflare as they have the means to deal with such an event. I don't really care that much, it is merely a hobby website. But I'm curious about the traffic data the website can provide. It appears to be FREE so... *shrug* I'll see what it's doing in about 24h or less.