A lovely day for Skiing
January 25, 2016 @ 09:01 pm 🔗 Post Link
Winter, Skiing, Wasaga Beach Provincial Park – Nordic & Trail Centre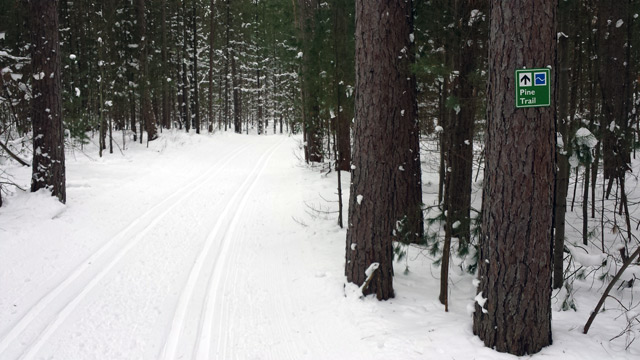 This Winter's snowfall has been pitiful. A strange thing to say when the Eastern U.S. is in a state of emergency after a nasty blizzard wiped through the region. Southern Ontario is green and brown there are only pockets of snow. We drove North yesterday to find some snow in Wasaga Beach. There is a wonderful Ski Centre there run by Ontario Parks. The Wasaga Beach Provincial Park – Nordic & Trail Centre was a small but well run centre. We consider ourselves intermediate skiers now. (You know this when you get stuck behind beginners on a track and want to pass them!) We stuck to the beginner and intermediate Trails. You pretty much have to start on the very flat and pretty boring Blueberry Plains Trail. I found all the trails well groomed and meticulously cared for. We also did The Pine Trail. It was a gorgeous trail, well suited to our ability. It had nice climbs, comfortable descents all wrapped in a dense Pine forest. The centre building is comfortable but pretty small when it gets busy. Along the ski trails was a few rest areas with bonfires. A nice little touch. We pondering trying part of the Monument Hill trail but it would have meant a long ski just to reach the trailhead. Perhaps next time. We met a pleasant man from Toronto and talked to him about skiing for a while. It was a great afternoon. The temperature was just below zero. I look back to my initial hatred of skiing now and smirk. Sure feel beat today. My legs feel like lumber. Ugh.
We are ripping through the Good Wife. Now on season six. The writing never ceases to impress.
Fridge is finally fixed. Gawds be praised.