Sick cat?
March 25, 2014 @ 09:03 pm 🔗 Post Link
Buffalo Bills, In Memoriam, pets, remi, Ralph Wilson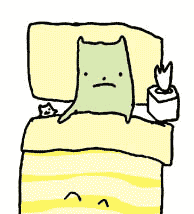 Hmm.
We are not entirely sure… but I think our cat, Remi, may have had a stroke tonight. …Or she is exhibiting similar symptoms as a result of complications from high blood pressure.
She momentarily seemed to lose control of one of her back legs, followed by her circling unusually for a few minutes. She seemed confused, upset and uncomfortable.
She has since acted more normal. She is sleeping now. It was pretty scary for awhile there however… (I mean she is a very old cat with a history of liver, thyroid and blood pressure issues…)
Sigh.
In sad local sports news… the long time owner of the Buffalo Bills, Ralph Wilson has passed away at age 95. He was instrumental in keeping football in Buffalo since the team began. WGR550 had people calling in all afternoon relating stories of how much he loved football, the community and Bills' fan. RIP Ralph.
Update:
Not sure how we lucked into having one of the best Vets I've ever met… but we do. Remi HATES being put in the cat carrier and the drive to the Vet's office. It clearly stresses her (and me) out. So he actually made a housecall to check on her yesterday, which was amazing. Remi has had thyroid issues for a while now, so he wanted to eliminate high blood pressure as the cause of her seizures. Her pressure was normal for a cat. I guess a stressed cat would reach >180 and she was 144 (while being restrained). So it isn't hyperthyroid. The vet is leaning toward seizures possibly caused by a brain tumor. So it was also unlikely to have been a stroke.
So basically we wait and hope there aren't further seizures. There is medication if they occur often… She is however, an old cat (17, approx. 84 in human years) so she won't stand up well to a lot of trips for testing etc. So her future is somewhat sketchy. I'm hoping for many days with her however. She is a great cat and has been an incredible companion for many years.