Another season of Ball Hockey
October 17, 2022 @ 11:10 pm 🔗 Post Link
bdot, Ball Hockey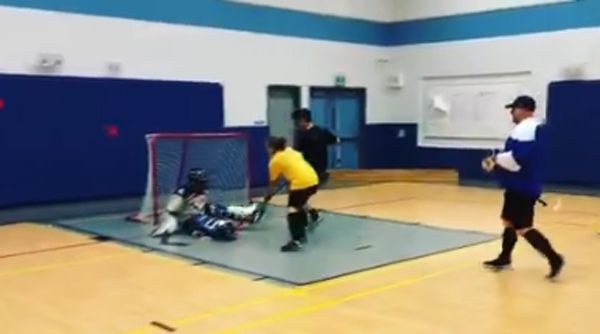 Ball hockey is back! There are some new faces and we are back to four teams. We are testing a new play format too…4x12m periods. Unfortunately, the fourth team had a lot of absentees the first night are were left with a really unbalanced team. This was evident pretty quickly. So the wise Commish shuffled the teams up and we played the rest of the evening with fairer teams. It was a good first night. I didn't feel too bad, sure I have heavy legs etc.. But I think it has been worse in the past.
After the game we stopped at PizzaPizza (yeah I know – it is only place open you can sit down in) and unloaded and had some fun post-game camaraderie. The owner even talked with us about hockey and the differences of sports based on ethnicity. Yup.
Bdot had another busy dog weekend. Basically gone the entire weekend. She did get another title for the dog and a bunch of fancy ribbons however. Mystic is now an Excellent dog. I thought she was before but now it is official I guess.
We got a new dog cousin with my sister in law. I believe they named the dog Juno. I'm sure Mystic will enjoy chewing on it.