Night of Sargent House Rock at the Horseshoe
November 10, 2013 @ 10:11 pm 🔗 Post Link
bdot, Greater Toronto Area, music, And So I Watch You From Afar, TTNG

First off thanks to bdot for coming with me to the gig last night. She isn't familiar with any of the band and still went anyway. Thanks hon.
I know And So I Watch You From Afar quite well but the openers not so much. I think I may have blipped TTNG (formerly known as This Town Needs Gun) but I knew nothing of Mylets. I'm currently fighting a nasty chest cold. The fact I went out anywhere on a chilly night downtown when ultimately I much rather be under a blanket on a couch is a small indication of how much I wanted to see ASIWYFA. So I over medicated and off we went. I guess it has been a long time since I've been to the Horseshoe. I find it a super quaint, and very charming little venue. Maybe the CBGB of Toronto? It is the kind of place I'd probably hang out in if I lived in Toronto. Awesome character and the bar/venue is coming up on their 65th anniversary. Awesome!
I can't remember ever seeing a solo Rock artist before. But with some digital wizardry and some looping Mylets put on quite a interesting series of songs. Shouldn't it be Mylet? It was very experimental, heavily layered and full of twisted effects. I may check out some of his stuff, if only out of curiosity. The band that did surprise me however, and surprised me a lot was TTNG. I went straight to bandcamp when I got home. The band is a trio, two of the musicians are brothers: Tim Collis, Chris Collis with lead singer and guitarist Henry Tremain. *smirk* They looked very young. Their sound however was really tight, mature and full of twists and bends found in only some of the top post-rock artists. Tremain's vocals where sometimes soft and high sometimes angsty/ tinged with a Cobainesque crackle. Regardless I found them perfectly suited to the deeply melodic journey the band took the crowd on. Theirt sound was not terribly heavy but very infectious and groovy. I found them to be super polite as well on stage and interacting with the crowd. You've earned two fans tonight, even bdot couldn't resist the charm of their sound.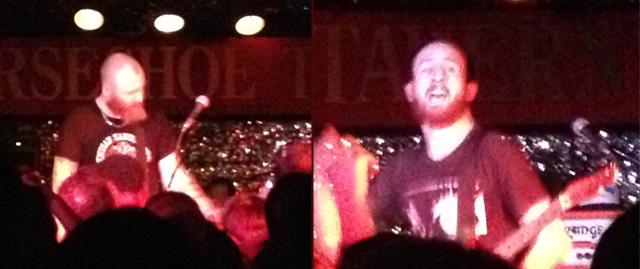 But I was there for the headliner. And the headliner didn't disappoint. And So I Watch You From Afar brought it. Hard, nasty guitar driven, in your face assault. The majestic peaks and brief lows make for stunning sound live. Rory Friers provided most of the interaction with the crowd and was a keg of guitar dynamite all night. What a character! The band expressed their sincere appreciation to the crowd numerous times. The crowd was body surfing, dancing, mosh pitting and really seemed to be enjoying the show. I don't think I've ever seen a guitarist kill an effects pedal during a show before. But they handled it like champs and got back to the Rock in a flash. What a great night of music!