RuneAudio is awesome!
March 4, 2015 @ 09:03 pm 🔗 Post Link
Computers, music, RuneAudio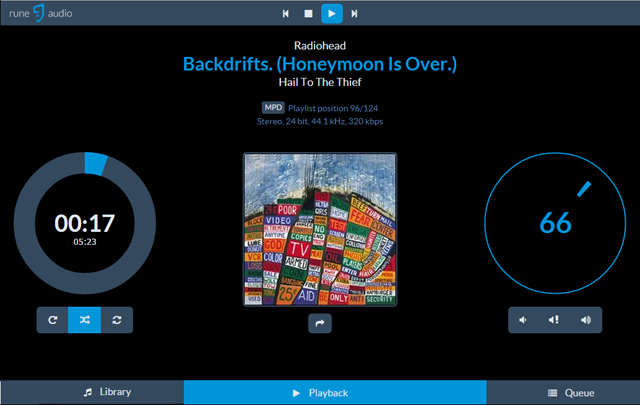 I've done a lot of reading and browsing for information about the Raspberry Pi. One of the uses I came across for it was to use a pi as a MPD (Music Player Daemon). It is basically a server that plays music. What is cool about it is that you can control it from any device on the network. So other computers, cellphones, tablets etc. The software I'm using, the heart of the whole thing, is the incredible RuneAudio. It can connect to shares on the network, connected USB drives, streams internet audio and organizes your entire music library. I'm in music geek heaven.
The only thing I haven't figured out is how to stream WGR550 AM on it. It seems American radio station streams are unavailable? Every direct link I've found is dead or access denied. Yes I know you can stream it via an app or flash… but it would be the cherry on top of this music playing gem if I could get it streaming through it. I'm welcome to ideas. And yes last.fm fans, it scrobbles. I ❤ how it has freed my ability to enjoy music.
Whoa…. my old iPod plays through it too! 😀 It uses a feature called airplay. I didn't know it was on while I was playing with the iPod then music started blaring. Fascinating. Oh. And RuneAudio is Open Source. (Read: Free)
We'll be away this weekend in the Muskoka region for a few days to enjoy the outdoors. More on this later.
update
After numerous google queries and dead ends… I found a link (link dead - Oct/2023) for WGR550 that works with RuneAudio! Ha. The session ids expire after a few days. So go here to get a new one. Open the link in winamp to get the URL details and the new valid session id.