These Dreams
February 1, 2015 @ 11:02 pm 🔗 Post Link
Caledon, Family, hiking, Mad Men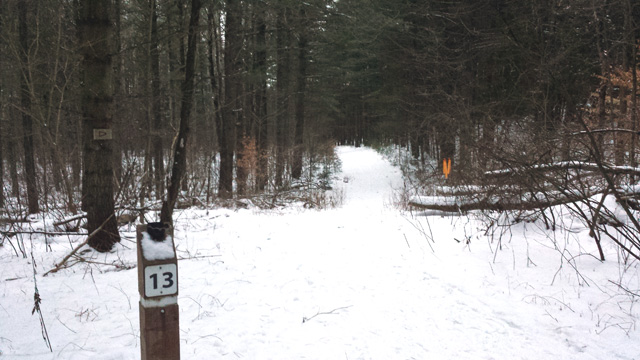 Had a nice walk with bdot and the dog in Palgrave Forest yesterday. We were the last car in the lot. *smirk*
We fed our Mad Men addiction in the evening. We are onto season four. The character and writing continue to be exceptional.
Not sure why… maybe Mad Men overload…. but had a very odd dream (nightmare?) I rarely remember them, and even more rarely awake from them. Both happened last night.
The Dream: I was on a bus alone in St.Catharines coming home from Brock. The streets were empty. I was assuming the bus would take me home to the North end… but it stops in front of GM and the driver tells me to get off. I'm let off in front of a set of large double doors. I go inside. Inside there are people walking around but no one is talking. I follow along a few long corridors for several minutes… Eventually I figure I'm not going where I want to be so I try and get out. I follow down more corridors until I enter a larger room with people sitting. No one acknowledges my presence. In the far corner of this room is an exit door. I walk over and exit. The door exits to a small shore area surrounded by water. There is no way out from here. I spend hours wandering the corridors until I get back to the original set of double doors. There is a bus waiting. I ask where the bus is going but the driver doesn't reply. I board it anyway. The bus leaves. After I few minutes I realize it is returning to Brock… I don't end up getting home.
Yep.