Puppies and Paint chips
April 15, 2013 @ 10:04 pm 🔗 Post Link
Computers, food, Pho Haven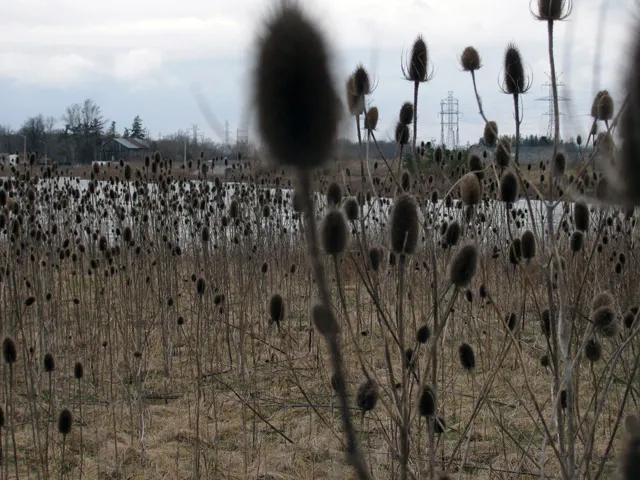 Ugh. Monday afternoon and I'm feeling pretty bagged. It felt like a busy weekend. Saturday we drove up to London to see our friend Alex. Alex is Tanga's breeder and she currently has a litter of Vizsla puppies, so it was a good time to visit. The drive to London feels twice as long as it actually is. It is so boring. We met Alex for a dog walk. We ventured around the prison off Exeter Road. It was a cold, gray, gloomy day, the dogs didn't seem to notice as they happily ran all over. The drive and walk led us to be very hungry. We ditched the dogs at went to Pho Haven for some Vietnamese cuisine. I ordered the Buttered Beef and it was incredibly flavourful and delicious. Bdot had a soup which equally good. After filling our bellies we returned to Alex's to play with the puppies. Bdot's heart was tempted by little miss pink. Hard to say no to those eyes huh? We aren't in a position to assume another pet, or she may have come home with us. After some bewildering attempts at solving Alex's IT issues with Windows 8 we went home. (What a clusterfuck of an OS. OMG…DIEDIEDIE…Microsoft. What were you thinking?)
It is looking like we may embark upon a substantial renovation of parts of our home. The wishlist is long but the primary focus is to:
a) get rid of all the carpet in the house and replace it with either hardwood or tile and refinish existing hardwood to match
b) update the kitchen because it is an eyesore
c) add a sliding door walkout from dining room to the backyard
d) make the backyard a space we want to be in and enjoy
e) in the unlikely event there is still money, knock out the wall in my office opening it into the wasted space at the bottom of the stairs…
So the reno is pretty huge. We have already started looking at flooring and appliances. Amazingly we agree on a lot of things especially the big picture. This will probably be ongoing for months and become a big focus on my blog. More as it evolves.
A good chunk of Sunday was spent checking out flooring and appliances. It is looking like simple white cabinets with medium brown counter-top and/or island is the direction we are heading. we treated ourselves to some yummy Indian at Sweet India. Their curry was amazing, as were their samosas… We'll be back for sure. Groceries was suppose to be next but it will had to wait, when I got home I hit the wall and crashed.
Looks like another day of tragedy in the U.S…. A bomb has exploded at the Boston marathon. Details are emerging now… We share this Earth with some sick people. 😦