Getting Naked at Roy Thompson Hall
December 15, 2014 @ 07:12 pm 🔗 Post Link
bdot, computers, music, Bare Naked Ladies, Hey Lucy Cafe, Roy Thompson Hall, Toronto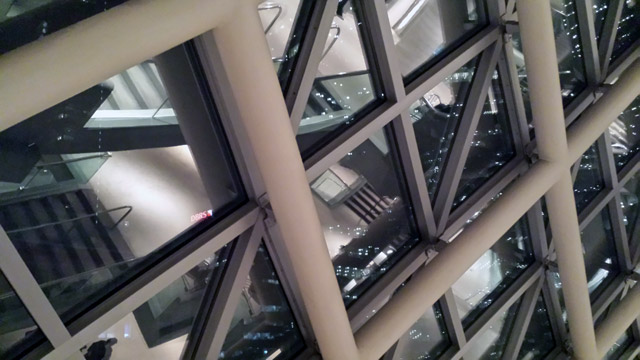 It was a long work week for bdot but she fought through fatigue and we still ventured to downtown Toronto last Friday night. We ventured downtown to see Barenaked Ladies at Roy Thompson Hall (RTH). Remarkably neither one of us have been to RTH, so it was a first for both of us. But first we got gouged to park ($20! Thank you Sir may I have another?) and had to find food. The original plan (haha) was to check out Toronto Christmas market and grab some food in the Distillery District but alas, slow traffic and a later than expected departure time killed that option. So we ate, once again, at the Hey Lucy Cafe. I guess this has become our goto eatery for the area as we stopped here in the summer after a visit at the Aquarium. By this time I was ravenous and wolfed down my yummy Chicken & Sausage Penne with a Sam Adams Winter Ale. Wow. That Winter Ale is good. Somehow despite the rushing around we were *gasp* early arriving at RTH. It is a pretty cool place, with remarkable architecture. It looks particularly impressive from the inside.
Inside the Hall I was impressed with the fairly intimate layout and comfortable seats. We were in the balcony and couldn't see about 1/5 of the stage, once again I couldn't see the drummer. Sigh. The setup included the entire Toronto Symphony Orchestra (TSO) which played a few Christmas arrangements and accompanied BNL on most of their songs. The event suggested it was Christmas themed but really I think there was four or five Christmas songs played all evening. It was more a BNL greatest hits evening, which was fine by me. They played 'Blame it on me' one of their earlier songs that I had forgotten. Cool track. I certainly enjoy the dynamic stage presence BNL have. They just flow around whatever is happening… I guess 20+ years of performing will give you a high level of confidence in your material. It was a fun show. The Naked ones ended the evening with a remarkable medley of pop deva songs which I think they should have ended on. Not that I'm complaining about more material, but the encore of Feliz Navidad was a bit of a let down after the medley. I'd certainly return to RTH it was a solid venue, it get uncomfortably warm however by the end of the second set.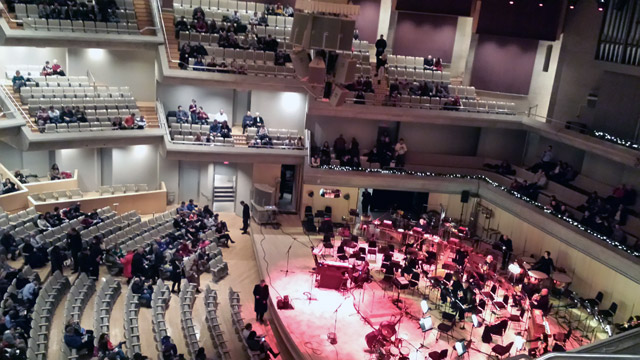 There was a blizzard earlier in the week. I shoveled over a foot of snow off the driveway. Well the temperature has warmed and the snow is now melted off everyone's driveway. I'm not sure if it will be a white or green Christmas. I did determine that shoveling huge volumes of snows wipes me out, completely. So for the first time ever the wife and I decided to get a snowblower. It makes sense. Fortunately or unfortunately – by the time it arrived the shoveling was already done… so we haven't had a reason to test the beast out. After last year's ridiculous ice and the subsequent tennis elbow and months of rehab, I'm thinking a snow blower will be an incredibly useful and welcome addition. My arms, legs and back will be most thankful I'm sure. More on this after the next snowfall!
With holidays plans uncertain there was a chance that our Christmas dinner was going to be cancelled. So bdot looked into options for a dinners for a small number of people (not a turkey)… She settled on Beef Wellington! So she gave it a test run last night. It was remarkably flavourful and very filling. I think we got work late last night that the original dinner plans are back on but with be held on the 28th. "Looks like meats back on the menu boys!"
Bdot was a mega trooper yesterday and hit over half a dozen stores. I did a bunch of household chores and watched parts of the Tottenham and Bills wins!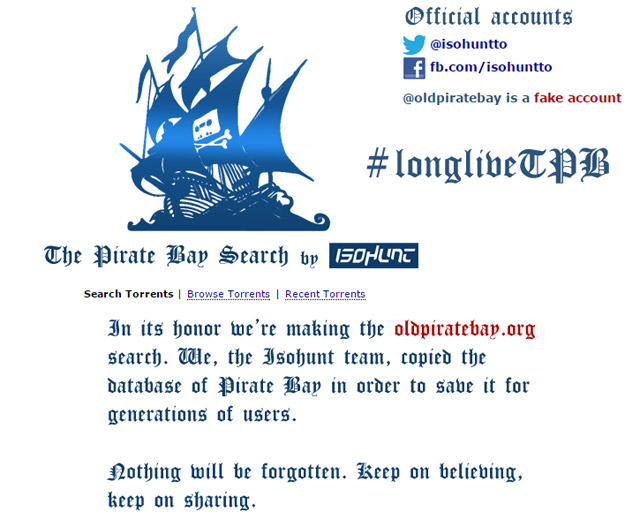 Isohunt has shared the pirate bay's database. Curious how it sprung up again.