Halloween, Hockey and a hole in the ground
November 3, 2014 @ 10:11 pm 🔗 Post Link
food, friends, hockey, home, Carlos Cantina, Halloween, Niagara Icedogs, nIVEK, Rogers, Rogers sucks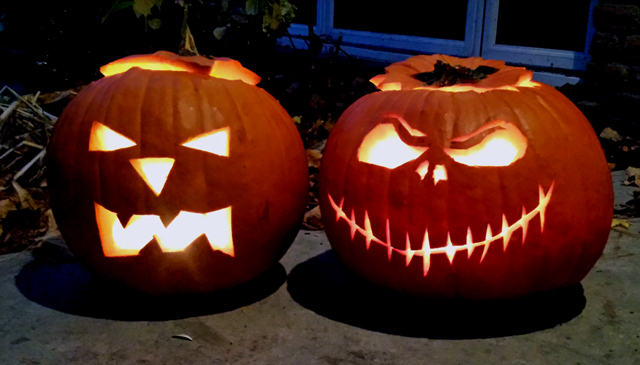 Friday night was Halloween. I was expecting a good number of kids since it was a Friday night…but the weather was awful. Cold, rainy, uncomfortable… ironically the worst evening in months. That said, we still had a decent showing of Skeletons, Undead and the Flash. There were some really impressive Halloween displays on our street. I think we'll need to up the ante next year. Bdot eventually got home with dinner. (Swedish fish, while delicious aren't full of nutrients it seems) By the time she was home I was famished. Once again we made all the Thai food magically disappear.
Saturday was a busy and long day. We got up early to meet our landscaper at Humber Nurseries in the freezing cold November morning. It was useful however. We had a plan but after talking with the Landscaper and seeing the brick we aren't are certain now. We have the material picked out… it is now just deciding how to use it. Hmm. After Humber we decided to grab lunch. So time ago a co-worker told me about Burgers Priest raving about their burgers. So we tried them. Well… it was rather disappointing. First off… they don't give you a tray so I guess you rip apart your bag to use as a plate? Ugh. The burger was flavorful but small, greasy and nothing really exceptional. Frankly for the money I'd go to A&W instead. Next stop was Lee Valley. Now that we have a shed we are able to organize the garage and things are finally getting moved around. So we bought a bunch of shelving, hooks and clamps. There will be order! (At sometime in the future…) I had plans to meet the Boyz in the evening so bdot dropped me off at nIVEK's place. After appreciating his awesome new TV we trekked down to Niagara.
The plan was dinner at Carlos Cantina then watch the Niagara Icedog game at St.Catharines new arena the Meridian Centre! We met up with the lads JoeyJoe, MikeMike at Captain's. After a pre-beer we enjoyed a yummy dinner at Carlos then we were off to the game. I've never been to an OHL game before. The pace was impressive. There were very few stoppages and few penalties. The game flew by. Especially since the Icedogs were getting owned by *cough* Sudbury…The game was a slaughter but the arena was quite impressive. It was a good time with the lads. I'd go to another OHL game… Afterward we had a few games of pool at a local bar we called it night. Poor MikeMike wasn't feeling well anyway. Otherwise a great night with the lads.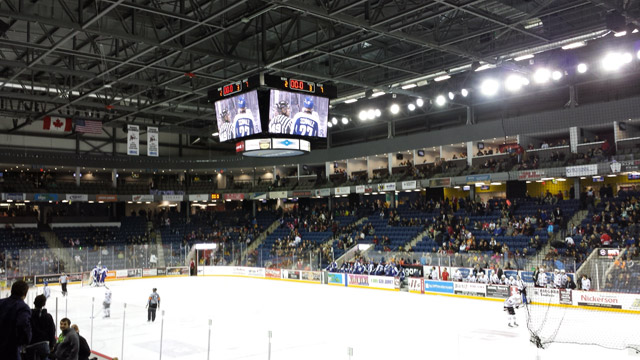 Yesterday we got the outside ready for Winter. We are still dealing with the water issue along the front basement window. With the new eaves we are hopeful the main problem has been rectified. Still we want to fix the wall. In doing so we have to expose the outer wall and find the problem. So I started digging along the wall. Bah… the dirt is full of roots and clay. Every shovel full is a struggle. It may take a while to expose 1-2 ft down. We also raked the remaining leaves, cut the lawn and started some preliminary garage organization. Needless to say it was a well earned hot tub night.
While I was at the hockey game Saturday bdot deal with Rogers idiocy AGAIN. She turned on the tub to discover our plan was completely wrong and we were reduced to basic cable. Every time we call Rogers they fsck something up. EVERY TIME. I guess they like pissed off customers that will leave as soon as a suitable alternative becomes available. The customer *service* reps are without question the worst trained and most infuriating of any we have dealt with. It is like they don't listen to a word you say then change your plan to whatever they want once the call is over. Rogers customer service is absolutely appalling and the media corp should be embarrassed by it. This isn't an isolated, one off call either, ever time we have to call, something on the plan is ruined. Bdot ever *repeated* asked for the plan to be read back to her before hanging up and they STILL fscked it up!!!. Bell bring Fibe to Bolton please!
It was an interesting weekend for my sports teams. Tottenham had a late goal to win, and the Sabres beat the Wings in a shootout.