Starting to look a lot like Christmas
December 2, 2014 @ 07:12 pm 🔗 Post Link
Christmas, Family, home, Buffalo Sabres, tanga, Winter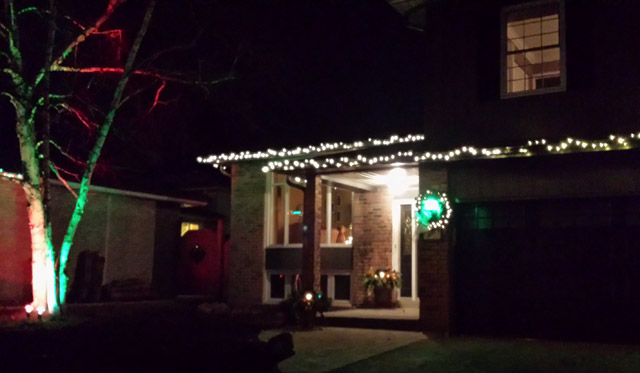 The landscapers are finally done for now. The retaining wall in the backyard is done. We are both really happy with how it looks. It really finishes off the look of the hottub patio and makes it look like a distinctive space. This weekend we spent a long and tiring day outside replanting the front garden near the house. The landscapers finished the reconstruction of the front drainage and filled in my trench. So we are hoping our water woes are now in the past. During the weekend we had drywall/insulation put back up in my office and in the garage where there wasn't any. The office still looks pretty nasty but it is warmer and has four walls again. I've nearly removed all of the garish wood paneling from the office. I'm starting to lose count of how many trips I've made to the dump.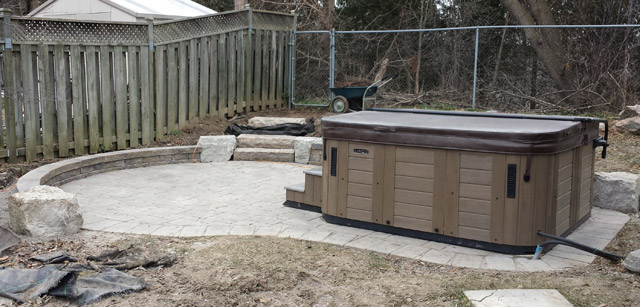 Last Saturday we went over the nephews for dinner. We brought the dog along for a walk with their dog Lily. It was their first meeting. It was rather underwhelming. Tanga was pretty indifferent to her and didn't want to play with her at all. Ho-hum. We spent most of the afternoon with her sister, brother and B-i-L. Bdot made a run with Bill to check out the post Black Friday specials. She discovery a strong liking for the iPad Air. Maybe next year. I've had no luck unbricking (debricking?) my Prime so, sigh, I'll be looking for a full sized tablet maybe next year. Maybe the next version of the Nexus 9. The boys were pretty elusive most of the afternoon (unless the chips were out) and only Jack joined us for the dog walk. They got me an interesting book for my birthday. It was a fun afternoon, a lot of time chatting, eating and drinking.
It is sure looking like a white Christmas might not happen.
I read that Zemgus was doing well in all star voting. So added mine. He is having a great season. Can't say that about too many Sabres. My picks: