Killaloe Weekend
July 5, 2023 @ 05:07 pm 🔗 Post Link
Friends, Family, Killaloe, Social Media, Twitter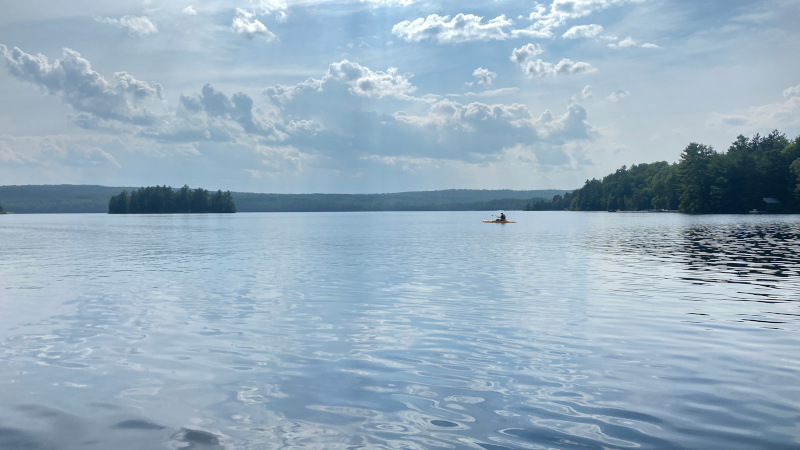 The afternoon before leaving for our holiday I drove down to Niagara to visit my Mom and my childhood friend Jeff who flew in from Australia. The drive down was awful... it is typically an hour and a half drive but took me over 3 hours. UGH. I don't really enjoy highway driving at all anymore. Since it took so long to drive down I had a curtailed visit with my Mom. It was great to see Jeff (and Jimmy) some of my oldest friends. It is funny how quickly you get up to shenanigans with guys you have history with. It sounds like Jeff has a great life in Oz but may contemplate returning to Canada... Hmm!
The next morning we packed the car and headed for a few days in the Madawaska Valley to visit friends and family. We took a bit of a different route north passing along the Southern end of Lake Simcoe following highways 48 > 12 > 169 > 45 > 503 > 648 > 10 > 62 then into familiar local roads. It was an interesting route, sure is boggy in some areas we passed through. We scored decent fries at Shaggy's food truck in Baldwin. The route certainly meanders, but it is enjoyable as a passenger to see new scenery going to a familiar place.
The first few nights were at Dr.P's place in Barry's Bay. Her house backs right onto a lake... which is great because it was oppressively hot the entire time, high 20s to mid30s WITHOUT the humidex...so having the option to go jump in a lake was lovely. I didn't really notice any of the Quebec forest fire smoke. It was quite relaxing with Dr.P.. We did a loop hike around a lake. Snoogu went nuts. It is stupid hot and she has no self control at all. She runs around like she unlimited resources, even for a Vizsla, the hot ultimately wins. She scared us a bit getting to the point of potential heat exhaustion - we had to force her to stop running around. Sigh. We eventually got her into some water but jez, that dog loves crittering more than anything. The various biting flies were unrelentless and the dog seems to have gotten quite a few bites on her head. It was a bit of bushwack to start the trail but after the dog was cooled off it was more enjoyable. After the hot walk we chilled most of the night with yummy milkshakes and BBQ!
The next day we drove out to TS' cottage on Paugh Lake to meet up with the Coven. It was another great Summer day in and out of the water all afternoon. Fishing off the dock was amazing... the fish bucket filled up really fast. There was lots of talking, eating and drinking in the lakeside sun. We finally made it to Bdot's mom's that evening.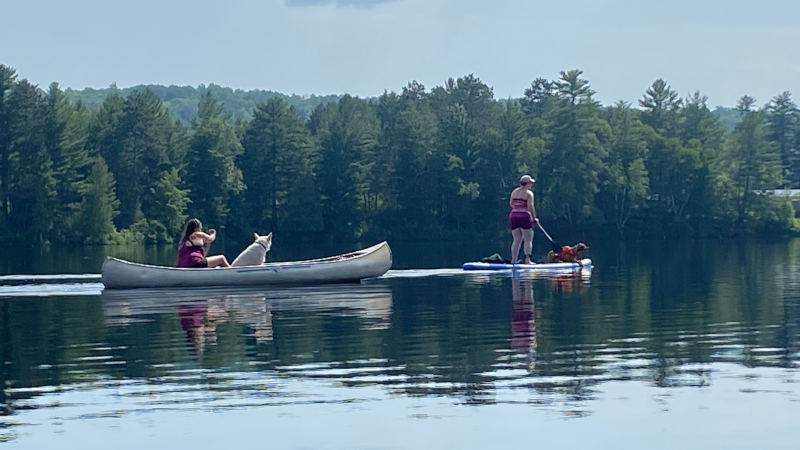 Bdot's Mom had an extensive todo list for us which we picked apart over a few days. In the afternoon of the following day we returned to Dr.P's lake for a paddle. The weather has been unsettled but no rain. Unfortunately, once we got on the lake (after two or three attempts to enter - what I found to be - a very tippy kayak) we heard a lot of thunder rumbling in the distance. So we stuck around shore as it was hard to tell which direction the storm was heading and we had no interest in getting stuck on a lake in a storm. We suddenly found out we have another swimming Vizsla. She just decided to swim out to Bdot and swam more than we've ever seen before. I mean, it was freaking hot...
In the evening we paid a short visit to the cemetery to visit her Dad's tombstone. It is a lovely location overlooking the local rolling hills in a rural part of the area. The next day was more hot and more swimming. This time we met up with Dr.P. at Foy Provincial Park. The sandy lake was pretty incredible. Certainly a bit of a hidden gem in the area. The dog was not only swimming this trip but climbing trees too... She is quite the nutter. In the evening we enjoyed the music at the Wilno Tavern's Blues night. The band certainly impressed playing mostly really old covers. Bdot got the car detailed and it looks pretty amazing. The drive home seemed really long. Bdot was jonesing for some ice cream and miraculously found it unexpectedly just after getting off the crazy Peterson Road that winds around Elephant Lake. Yes, the Harcourt General store is another little gem, Kawaratha Dairy Ice Cream and a respectable selection of coffees. It granted a very welcome break.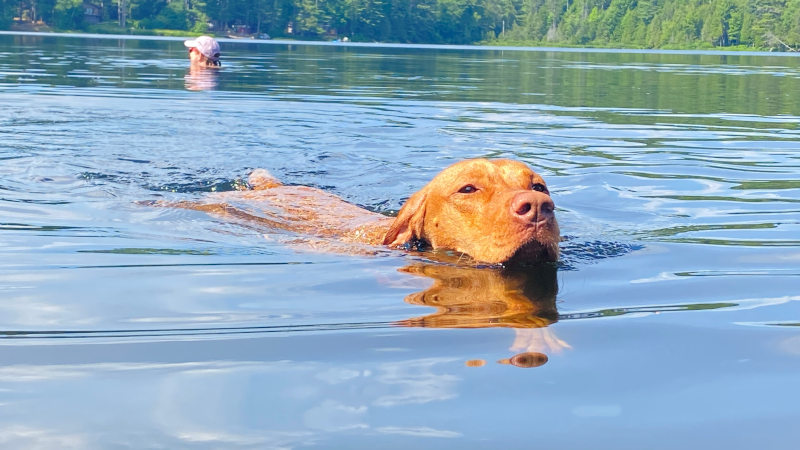 Hmm, meta opened a potential Twitter killer (and Mastodon?) called Threads yesterday. It seems promising. If it catches on I'll likely ghost my twitter account. I don't need two of the same thing and Elon has turned twitter into a cesspool. It was an easy account to migrate to as it just dupes Instagram. I looked for a few of my twitter followers... *shrug*
TFC is in a brutal death spiral. The new Italians are a complete disappointment.
I've tried to watch Canada in the Gold Cup. They are playing maybe their C lineup? Anyway, it shows how little depth Canada has as they barely made it into the semi finals. Sadly they drew the Americans who are currently a buzzsaw. I don't see any way Canada moves on.
I think the cats are fairly happy we are home. Go jump in a Lake!