Huntsville: A Weekend Away
March 9, 2015 @ 08:03 pm 🔗 Post Link
bdot, hiking, pets, Winter, Arrowhead, Cedar Grove Lodge, Huntsville, Neil Gaiman, Neverwhere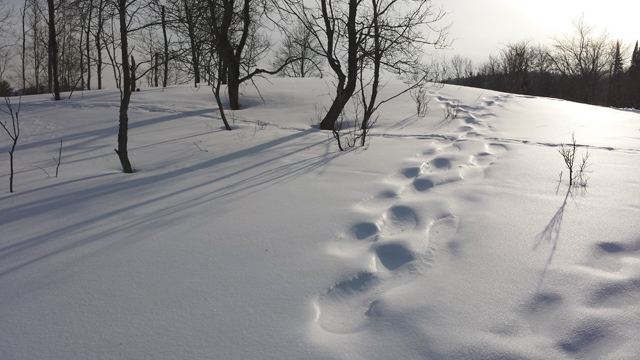 It seems Winter is finally coming to an end. The temperatures are up finally hovering around zero. You can actually feel the warmth of the Sun. Phew. It was a long cold Winter for sure. Some time ago bdot booked a weekend away in the Muskoka region in Huntsville, Ontario. It was intended to be our last opportunity to get outdoors and enjoy Winter, and we certainly did! We wanted to bring the dog, so that really limited our options for accommodations. Bdot found a wonderful resort that allowed pets called Cedar Grove Lodge. So we packed up skis, snowshoes, skates and all our stuff (you'd think we were going for a month!) and were off to the Lodge Friday morning. Huntsville is closer than we thought. We got there in just over 2hrs.
Cedar Grove is an impressive property. First off it's a huge rolling property and it runs along Peninsula Lake. It is a collection of lovely log cottages of various sizes that can accommodate various numbers of guests. We stayed in the cute little Red Robin cottage. The cottages are certainly rustic, don't expect to get your tech on. There aren't TVs or Wifi available in the rooms. (There is Wifi in the games room of the main Lodge however… which was getting a good workout by the looks of all the iPads people had out…) With this technological disconnect I managed to finish Neverwhere by Neil Gaiman. It was the first time I've read anything by Gaiman and it won't be the last. His writing style is evocative, humourous and paints the scenes quite well. It was a wonderful fantasy journey with Door, Richard and an assortment of memorable London Below characters.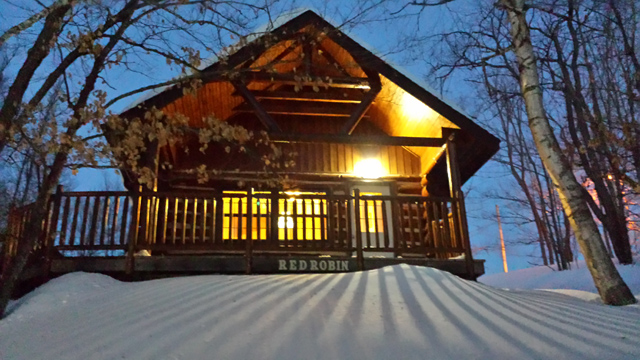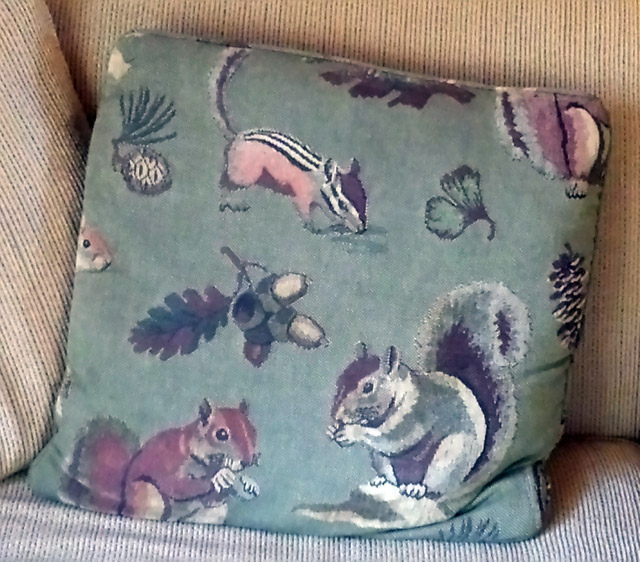 The room was comfortable and warm. We had a fire going most of the time. There isn't kindling in the rooms – you are encouraged to start the fire with one of those horrible fabricated logs then add real wood. We called the pre-fab log fire the 'hipster fire'. Hmmpt. Our stay at the Lodge included our meals. It was a curious ritual to meet at the same lodge at the same table around the same people again and again for the various meals. The meals were very filling, largely comfort food, soups, casseroles and I even scored Ribs for one dinner. It worth noting you can BYOB to dinner. 😀 The lodge itself is pretty comfortable as well. There is a large games room beside the dining room. You can grab a tea and watch TV, surf, play a game or just relax. There is another games area downstairs but we only visited it briefly. The indoor stuff was fine but it was the outdoors that impressed us the most. Cedar Grove has its own maintained ski trails. So we basically skied from our front door. Which is awesome! It is pretty hilly. I think we skied for about an hour or so. (Forget your skis? The Lodge also has tons of outdoor equipment to use. Skis, Skates, Snowshoes, Hockey sticks…)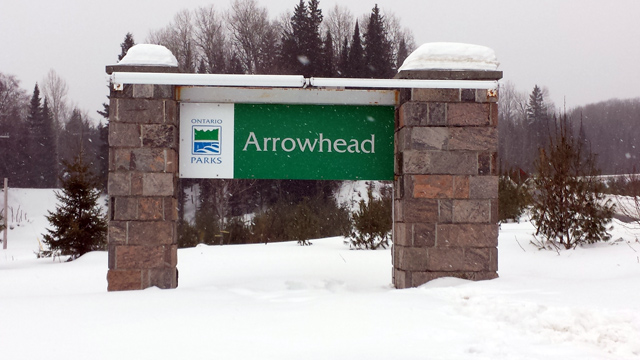 Saturday we went to Arrowhead Provincial Park to check out the skating track. The park is beautiful as you would expect from a Provincial Park. The skating track was busy. It was clear that it was well used and nearly the end of the season. Sections of the skate trail were very rutty and hard to skate on. Especially for me, whose skating skills are not very good. I was experiencing some nasty shin pain while skating. I'm not sure what caused it but wow… ouchy. After skating we walked around the park briefly. There are small Eco-lodges you can rent… They looked really cool. We would certainly consider renting one. Unfortunately we didn't get a chance to ski or snowshoe in the park. So we are hoping to return one day, maybe even for a day trip. After Arrowhead we wandered around some of downtown Huntsville's shops. We were very weak at The Nutty Chocolatier. Bdot bought a big bag of Jelly Bellies. We also got assorted chocolate and Necco wafers, a favourite from my childhood. We shouldn't be allowed in a candy store when we are hungry… *cough*
Sunday we quickly realized we could have used an extra day at the lodge. The check-out time arrived way too quickly. We did manage to snowshoe on the lake before we went home, which was quite enjoyable.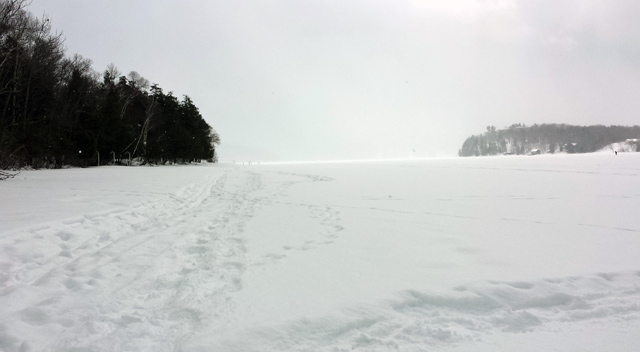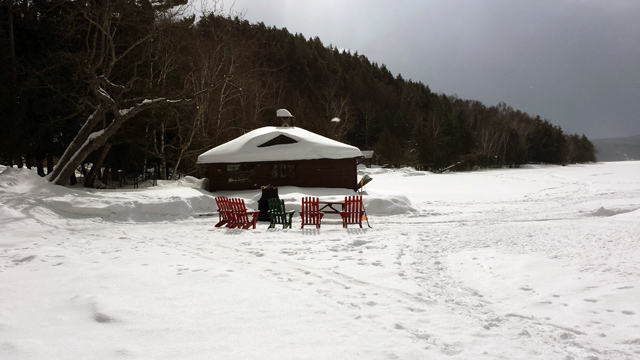 Yes we dragged the dog along where ever we could. She is becoming increasingly reluctant to go outside. She hates the boots and her jacket. Once is outside however she quickly forgets about them and enjoys the fresh air.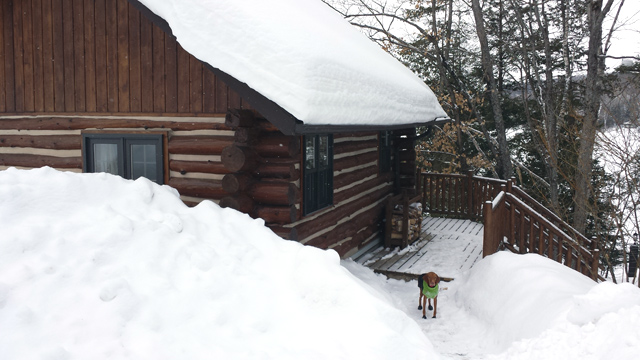 Good night Red Robin!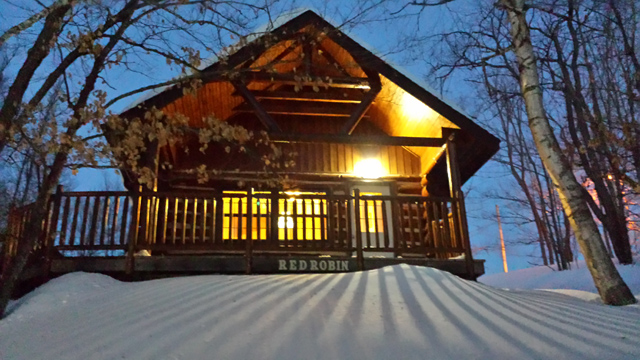 It was a wonderful weekend away with bdot. The staff at Cedar Grove was friendly and helpful. We would certainly return as there is so much to do there if you enjoy the outdoors.
When we got home last night a 'Region of Peel' truck was sitting in front of our house. Ugh…. I guess a pipe froze or something. They have torn up the neighbour's driveway. What a mess. The water is off at the house. Awesome. Sigh.