Fore and Fridge Freeze
April 30, 2013 @ 09:04 pm 🔗 Post Link
hockey, home, Eden, Riverstone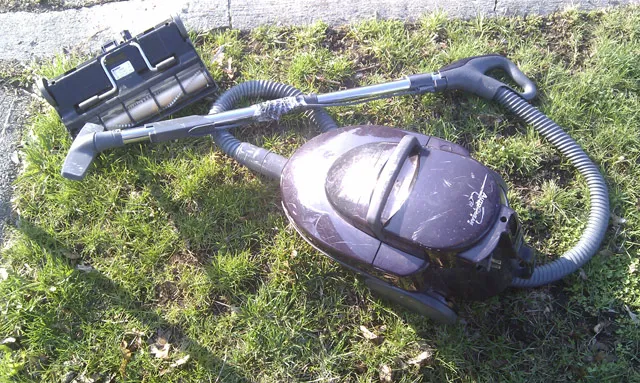 I've been lugging around an old bagless vacuum that is held together with packing tape for a few years now. Since bdot's allergies are so bad (or so she claims) I've had to do the majority of the vacuuming. The old vacuum was a piece of shit. It served its purpose and it was well past when it needed to be taken to the woodshed. (I'm thinking of tuning it up Office Space style) Why can we finally ditch this relic? Saturday morning we had Central Vaccum installed! Yes, with an exclamation point. I've never had central vac, and I was reluctant to switch, but wow… what an amazing device. Luckily for our pocketbook the framework for central vac was already installed when we bought the house. We just needed a new canister and the tubes cleaned. Check and check. So now, instead of dealing with the dusty Satan storm of allergic agony every time I empty the old bagless vacuum, all the crap goes into the garage. No worries! In fact, it is so clean that bdot can vacuum now. Woo! It is a pretty impressive system and yes it sucks! (Thank you, thank you, try the Tilapia!) So there were cobwebs and crap that we haven't been able to reach since we bought the house… now… bam! Telescoping extensions! Nothing is out of reach now. For two people with bad allergies this is a pretty amazing household update. Sorry spiders.
The reno marches on. After the magical central vac was installed (and we were done playing with it) we went to Sears to finalize fridge and stove selections for the kitchen. The stove has been set for awhile, and was an easy choice as we decided on a 'slide-in'. The fridge however is taking on its own chapter. Bdot is fixated on having a 'counter depth' fridge… Well… the options for counter depth fridges are very limited and are of varying quality. We passed up a deal on a standard fridge and opted to get a Samsung 'counter depth' fridge instead without researching it. A mistake. So we got home and did research it. Apparently, Samsung has a notorious track record with their fridges and this model in particular rated below 50% in Consumer Reports. So, this option is off the list and we are back to fridge selection square one. Ho-hum.
The morning also included stops to look at sinks, faucets and more tile. To reward ourselves after all this running around we had amazing gelato at La Paloma Gelateria & Cafe. It was so good. After enjoying a few minutes with our gelatos outside we went down the road to Golf Town. I've been acquiring giftcards to Golf Town for over a year now and I'm close to having enough credit to replace the clubs my Dad bought me when I was a teenager. Yep, you should see them. I tried Adams, Taylormade and Callaway irons on their virtual course (which was pretty cool). I liked the Taylormade and Adams… ultimately I hit most consistently (which was still very inconsistent) with the Adams. So it is looking like with a few bucks kicked in and all my gift certificates I may finally get a new set of clubs that fit an adult. Go figure.
Once we finally got home we enjoyed Thai for dinner and watched the movie Eden. It was a curious film based on real events of young girls being kidnapped in the U.S.A. and forced into prostitution. It wasn't a very heartwarming movie (obv) but was entertaining. We started we Zero Dark Thirty but is was moving far too slowly for our frame of mind.
Bdot had a wagjag for 9 holes of golf at Riverstone which was expiring so we set an late afternoon tee time on Sunday. The course isn't bad…but it wasn't good either. It weaves through a ravine within a subdivision. I found it somewhat claustrophobic. You can almost always see houses and feel them looming over you. The staff were really nice but I don't think I'd be eager to return to their par 3 course. It doesn't feel like golf to me if I can tee off into someone's living room. It was our first time out of the season. All things considered we did okay for two duffers.
We made it to our local grocer just before it closed. We scored some massive 'Double D' chicken breasts which I BBQed with a bunch of veg for dinner. Yummy.
Big news in the sports world as Jason Collins came out as the first gay athlete in a major sports league in North America. What incredible bravery. I hope it goes well for him. Sports fans can be very ugly.
The Sabres had a press conference yesterday to announce nothing. Darcy is staying. The coaching role is undecided. And the press went nuts about a 4% ticket increase in light of the Billionaire owner's 'money isn't an issue' statements. Good times in hockey heaven. Sigh…. Hockey playoffs start tonight. My picks for the East: Habs v. Sens (Habs in 6), Leafs v. Bruins (Bruins in 5), Rangers v. Caps (Hmm, Caps in 6), Pens v. Islanders (Pens in 5). The West: Hawks v. Wild (Smash. Hawks in 4), Wings v. Ducks (Ugh, Ducks in 7), Sharks v. Canucks (Sharks in 6), Kings v. Blues (Kings in 7).