Behold Fordnation
November 14, 2013 @ 11:11 pm 🔗 Post Link
Greater Toronto Area, politics, Rob Ford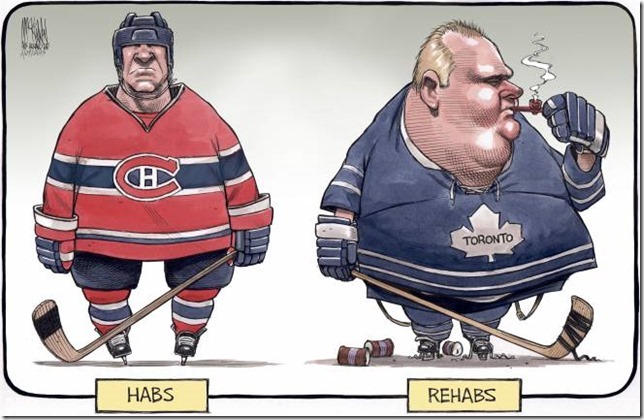 Yeah. I've avoided blogging about Rob Ford for months. But a co-worker sent me the hockey related comic above and I couldn't resist re-posting it. So I'll offer my two cents on this never ending melodrama.
Unless you live under a rock you've heard the nightmare for the city of Toronto called Rob Ford. Way back at the very beginning the idea of a meat and potatoes, man of people going to City Hall to stop the gravy train sounded like a worthwhile notion. But wow… how far from that concept has the mayor fallen and continues to fall. I think he has apologized for something he said or did every day this week. And sure, people are often willing to let one screw up slide… but it is now clear that Ford is a train off the tracks destroying everything he comes across.
I initially even thought after he copped to the drugs that if he stepped down and went to rehab he might get a second shot at mayor… but now?
Seriously. If you love Toronto like you say you do… and as entertaining as he has been (I live North of Toronto so… he only indirectly affects me) he needs to step down. Toronto has become the butt of jokes internationally. The Premier of Ontario called his behavior 'truly disturbing'.
Yikes. It is getting pretty embarrassing.