Family focused
December 27, 2013 @ 10:12 pm 🔗 Post Link
Christmas, Family, hockey, stuff, JP and Sibling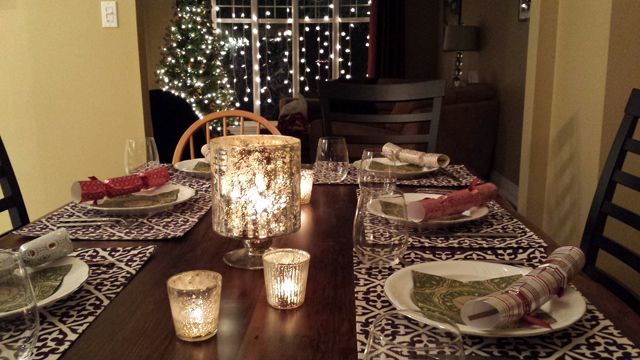 It has been a few days of Christmas festivus. It started a few days ago when we drove down to Niagara with JP and my sister. We had a yummy dinner starring Cabbage Roll, Pierogi, and borscht. I was surprised to see how big (read: chubby) my parent's cats have become. It was nice to be home for at least one night during Christmas. After dinner we drove to Welland for a family get together with my family. My cousin Elise had her boyfriend over from Norway. He was an awesome guy. I greeted him with a welcome in Norwegian thanks to google translate. "Velkommen til Canada. Kan jeg få deg en øl? / Welcome to Canada. Can I get you a beer?" He thought that was pretty funny and enjoyed an Upper Canada Dark. *grin* There was lots of talking and eating. Unfortunately we couldn't stay too late because we had to drive home and JP and my sis had to go all the way to Barrie. Still, it was good to see all Uncles, Aunts and cousins; I see them so rarely.
Christmas Day bdot and I exchanged gifts. I was happy to get incredible bookshelf PSB speakers for my receiver, cozy Lulu sweater and electric toothbrushes for both of us. We were hosting dinner for my immediate family and Stevo-O, so bdot was busy with preparations. It seemed everyone was really low energy. I guess driving all over for events caught up with everyone. Still the gift exchange was fun and the dinner, although it took a little longer than expected was delicious.
Yesterday we spent most of the day at bdot's sister with her brother. Her brother stayed over on the 25th. We woke up early to watch the Canada/Germany 2014 WJC game. Canada was a little slow to start but was coasting by the 3rd period with a big lead. The three of us drove over in the early afternoon. Bdot's Brother in Law prepared delicious Canadian bacon and sausage, her sister made a tasty potato casserole. I had two servings. So good. The rest of the afternoon was presents and spending time with our nephews. Fun. I got a geeky light and some tea. It was a relaxing afternoon which we really needed.