Fiftylicious
August 29, 2022 @ 06:08 pm 🔗 Post Link
Gloucester Pool Cottage, Bdot, Family, IPA Fun Box 4th Edition, Tottenham Hotspur FC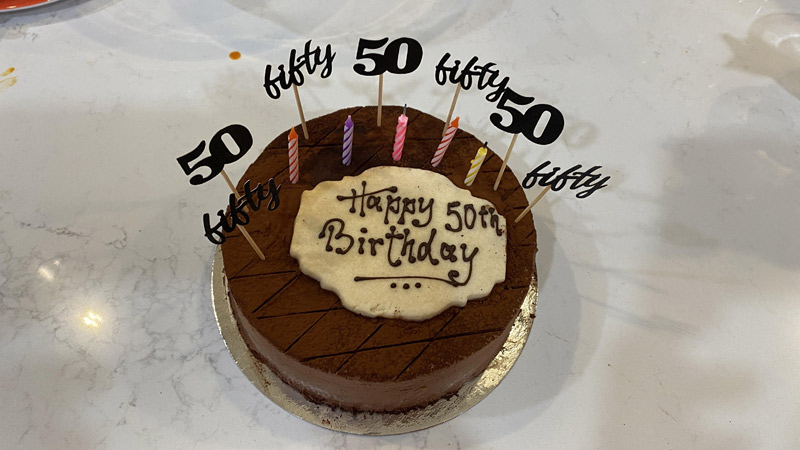 We celebrated bdot's 50th birthday at the cottage the past weekend. Her brother made a rare appearance for a fun weekend. She got to relax for the majority of the weekend. I was roped into cottage upgrades and deep frying so my day was pretty busy. Sadly by the time I sad down I had no momentum to paddle. Oh well. The lower deck level of the cottage is a completely different vibe then the upper. Remarkably so. There is a breeze most of the day too. It is an incredible space. We did relax in the evening for a rewatching of The Hangover.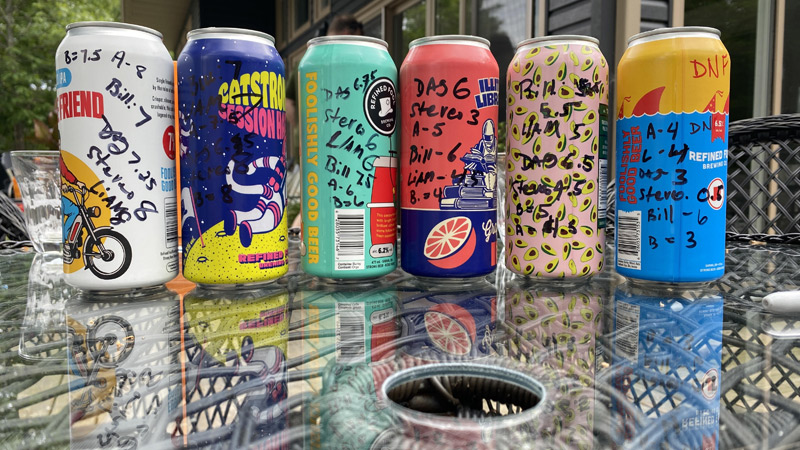 Yes there was beer review! The adults sampled the IPA Fun Box 4th Edition from Refined Fool. 🛵 Single Friend — 7% Cold IPA: An innovative beer unbound by the rules of regular IPA's. Crisper, cleaner, and curiously crushable, this cold-filtered and lagered stag rides alone. Easily our favourite. All reviewed above 7 with a bunch of 8/10s. ⭐⭐⭐¾
🦈 Party Sharks — 6.5% Foggy IPA: Ultra hazy, silky smooth, fruit-forward. A tropical hop experience intended for parties of all shapes and sizes. This was awful. Some even gave it DNF. Steveo rated it a pack low of 0.5. Bill actually had a 6. All others 4 or under. Bleck! ⭐
🐈 Catstronaut — 4.5% Session Hazy IPA: An easy-drinking golden-hazed beauty. Dominated by citrus and tropical notes, it's smooth-bodied and well balanced. Ranked in at 2nd. Lots of good grades 7s and 8s across the board. ⭐⭐⭐½
📚 Illiterate Librarians — 5.6% Grapefruit IPA: An American style IPA featuring five different hop varieties and packed with heaps of real grapefruit. Mixed reviews. 6/3/5/6/4/4.5 Generally not favourable. ⭐⭐½
🚐 Van Full Of Weirdos — 6.2% Juicy IPA: A Simcoe-heavy IPA packed with bright tropical aromas and brilliant peach and citrus flavours. Ranked 3rd. Mostly 6s. Decent. ⭐⭐⭐
🥑 Zane Lost His Avocado Bag — 7.6% Brut IPA: Light body, high carbonation, low hop bitterness, and a dry finish makes this champagne-like IPA is a pure delight. Borderline fail. Grades of 5/5.5/5/6.5/4.5/5/4.5 So another meh. ⭐⭐½
The drive home was long. Traffic in Barrie was bad and we stopped in Innisfil for dog training. It was hot. Really hot. I began to question reality. We did get Pizza and DQ in Alliston with Brian however. It was nice to finally crash on the couch and watch Tottenham win.