Summer Vacay
August 4, 2016 @ 10:08 pm 🔗 Post Link
Canada, friends, golf, outdoors, Buck and Bonnie, Toronto, Toronto Blue Jays, Vicky and David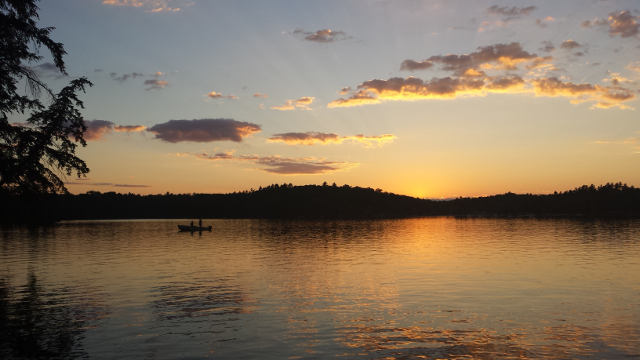 Our vacation started right after work on Friday. I got off a little early, got home, changed, then we headed downtown Toronto to catch the Jays game. Getting downtown was actually pretty quick… but trying to find parking nearly resulted in homicidal behaviour. We circled around the Skydome area for around 40m before finding parking. At least this time parking was a reasonable $12 at the very top of a multi tiered parking lot. It seemed to take forever to get to our seats. Metal detectors. Long lines. Climbing to the top of Skydome… by the time we finally sat down we had missed an inning already. It was a beautiful day to see a game. Skydome was open, it was warm with a little breeze. The Jays didn't disappoint winning over the Orioles. It was a pretty exciting game. Lots of hit and scoring. An important inner division battle for the top place in the division, maybe even playoe ffs. Still the nightmare of getting to the game would certainly prohibit any desire to return anytime soon. We met up with friends at Skydome. The game was for primarily for a friend's birthday. The crew we are spending our holidays with.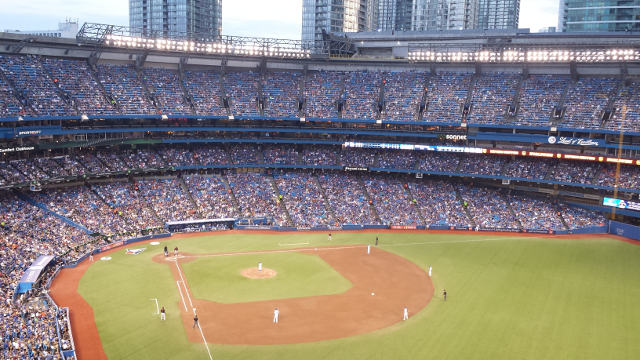 We wandered around downtown for a bit. The parking lot was bumper to bumper from the top to the bottom. We weren't going anywhere for a while. So we took advantage of the view, despite being ass end hungry.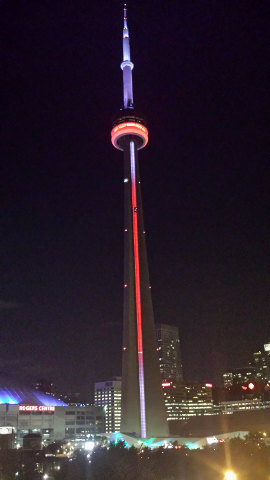 Saturday we packed and drove up to Bonnie and Buck's place which was about half way to the cottage. We stayed over night there since we didn't start our rental until Sunday at 3:00. Buck has done a ton of work in the backyard. They now have a lovely SHADED deck with comfortable chairs and a fireplace. I can imagine they will get tons of use of of it. The night was fun, filled with laughter, drinks and music. It was a great way to start our holiday.
Sunday was more packing then departing for Jake Lake in Apsley, Ontario. We arrived at exactly 3:00pm. Heh.
It doesn't take long to get into holiday mode. Your biggest concern is dinner and your next drink. Monday was pretty quiet as everyone was pretty exhausted from the travel, packing and finally being off. We stopped for Kawartha Dairy Ice Cream on the drive up. Saw a bumper to bumper collision as we were leaving. Hmmpt.
Tuesday we enjoyed a boat ride of the Jake Lake area. It is quite extensive how far you can boat through all the little bays and channels.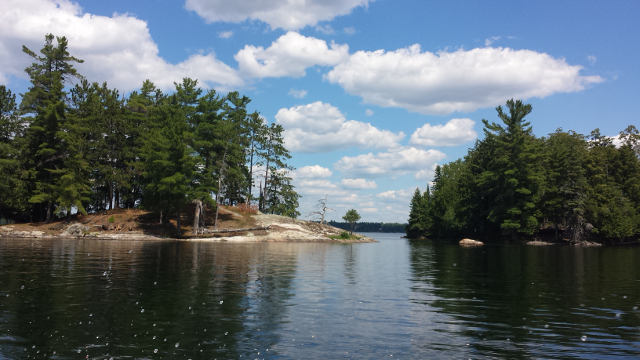 After a hard afternoon of touring we enjoyed ice cream at the local Marina. In the evening we made S'mores by the fire. Yeah, vacationing is hard.
Wednesday we decided to go golfing. It looked like the coolest day remaining during our time off… So we booked a time at Owenbrook Golf Course. It was a unique experience. I guess the Summers here are slow. Really slow. The course owner Bruce opened the course just for us. Yes, we had the entire course to ourselves! Bruce was a charming older fella and shared some stories and troubles before we teed off. The course is 9 holes and in good shape considering what little help Bruce gets to maintain it. Neither Barb or I have golfed for about two years, so I was expecting the worst. My swing was actually pretty good. My chipping and putting however was very hit and miss. Fortunately we played best ball. I was paired with the David and Bdot, Buck and Vicky were the competition. It was enjoyable for about five holes, then the heat just became too much for me. My shirt was soaked and I was losing grip on my clubs. And also getting stupid, hangry.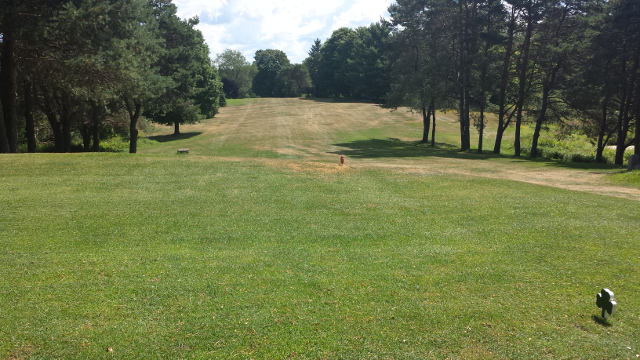 It is hard to golf without thinking about my Dad. Then bdot pulled out a Sabres ball marker. It was nice to think he was part the day.
We stopped in Apsley for pretend poutine, beer and groceries. Watched another Jays win and TFC win on the tube. It was too hot to be 'upstairs' and too 'buggy' to be outside. Today started with a good thumping from The Wife and some rare quiet time by the lake. Speaking of which, enough blogging, I have a lake to go jump in.