Delicious Thai Hikes
September 5, 2016 @ 10:09 pm 🔗 Post Link
Family, food, hiking, chaopaya, Forks of the Credit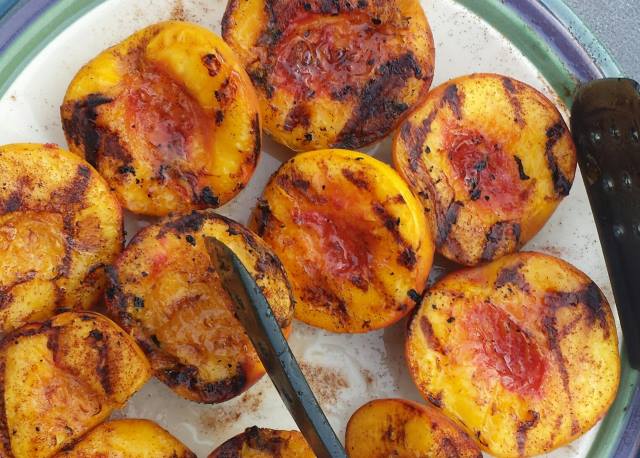 It was a lovely long weekend. My Mom came over Saturday afternoon for a visit. She never arrives empty handed and brought us stuffed peppers, borscht and cupcakes. She stayed over Saturday and Sunday night. With the temperatures temporarily cooler we did a hike in Palgrave Forest. It was nice, walks there always are. In the evening I BBQed homemade hamburgers with local corn. Dessert was grilled local peaches. We do eat well here in the Summer!
The neighbours have been having arguments for several days now. The other thing about Summer is sound travels and can learn more about people than you care to. But hey, you made my blog, lucky you.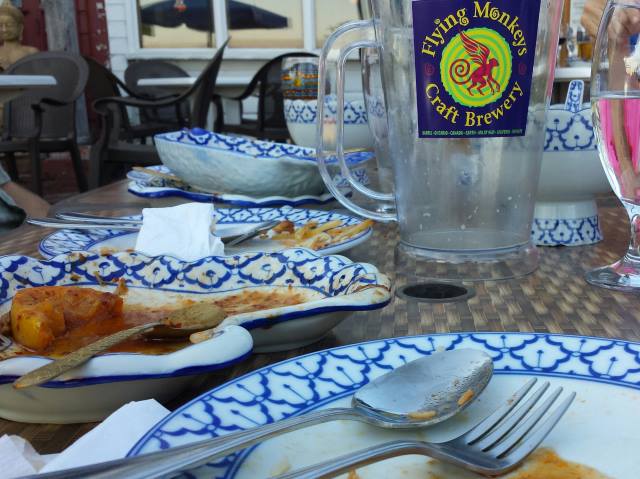 Sunday we had a planned dinner date with my Sister and JP at Chaopaya in Barrie. We had a short visit at their place with their horde of crazy cats then it was off to dinner. What a meal. We ate everything as you can see and polished off two pitchers of Flying Monkeys draft. Thanks Mom, what a meal! We were so stuffed we even passed on, what looks like incredible Ice Cream. Next time!
Mom left early Monday morning with a smash! (She broke two beer bottles while packing) We met up with JP and my sister for a walk in Forks of the Credit. It was hot in the Sun so the walk was pretty taxing. The dogs were in and of the water the whole day.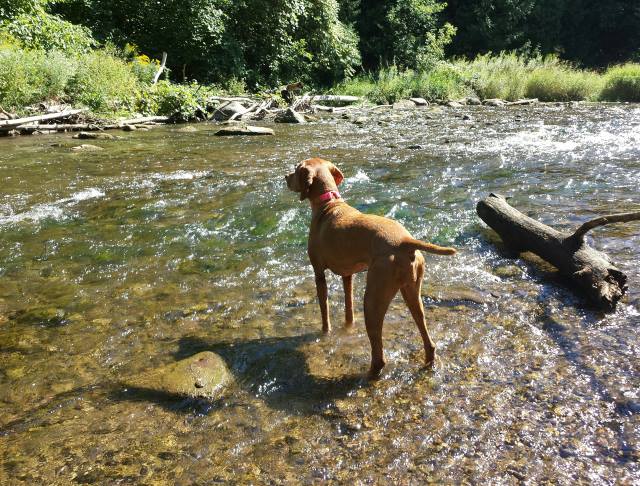 We weren't aware the staircase and falls were blocked off. So after a fairly steep climb to the falls – you have to turn around and go back where you came from. Props to poor Dad that pushed a baby stroller all the way of that hill. I was done once we got home and napped for a few hours. Zzzz…. It is back to reality tomorrow for kids. I'm expecting a very slow drive in so I'll hopeful get up in time to take the back route. Watched Where to Invade Next?… it was quite enlightening. Clearly we are looking at life and values wrong in many ways in North America.
We had stairs put in off our sliding door on the kitchen floor. They aren't done yet but are already changing the accessibility to our backyard. The cat sure figured it out quickly.