Ubiquiti and Zwifting
April 19, 2022 @ 02:04 pm 🔗 Post Link
Ubiquiti, Zwift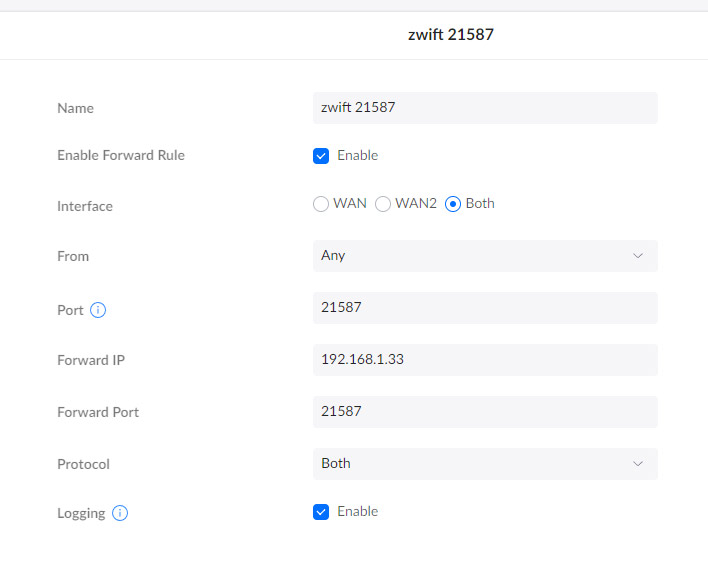 I've been having a world of trouble getting Zwift and our new Ubiquiti Dream Machine to play nice. My laptop is on our Ubiquiti network and would drop connection to my Tacx immediately when I tried to bike. It is really just a matter of port forwarding to a static IP. So my process to get it working:
1) Set your laptop/pc/whatever that is running the Zwift app to a static IP in Ubiquiti. Open the Ubiquiti app > Select Client Devices > Find the device in the list running Zwift > Double click on it and notice the new panel open on the right > Select Settings > Click on Use Fixed IP Address > Be sure to note the IP address > Probably something like 192.168.1.33. Use your IP address, 33 is just an example.
2) Port Forward to the newly set static IP 192.168.1.33 > In Ubiquiti App select Settings > Firewall and Security > Under port forwarding > Create three new Port Forwarding rules > Settings as follows. The three ports to forward (all the same just change the port setting on each rule): 21587, 3022 and port 3023. Ubiquiti Port Forwarding settings Ubiquiti Port Forwarding settings
3) MAYBE REQUIRED? I had thought I needed to Port Forward from my cable modem to the Zwift IP (192.168.1.33). But that doesn't appear to be required as they are are separate subnets and can't talk to each other anyway…
Hopefully this helps someone.