Whoa. Slow down!
October 5, 2015 @ 09:10 pm 🔗 Post Link
Buffalo Bills, NHL, Rogers, Toronto Blue Jays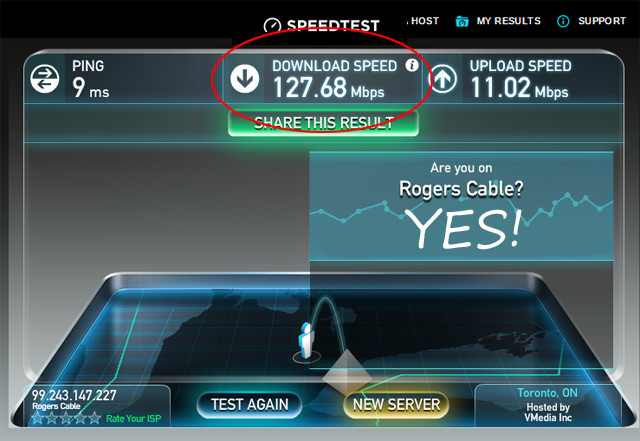 I've ragged on Rogers pretty hard in the past. More for the abysmal customer service than anything. Last weekend we cut our cable and home phone service. In doing so we renegotiated our Internet package. The package ended costing only a few dollars more but we got a new cable modem. And wow… what a difference! I just tested the old modem before we brought it in. It was getting around 28-32M/down and maybe 2-5M/up. You can see the numbers above… what an improvement! So we are -so far- pretty happy post cutting the cord. I still have access to Sportsnet and Centre Ice for sports online (and other streaming sites) and I finally got NextPVR working today.
NextPVR has been an awesome find. Last week I had to wipe my main computer and reinstall everything. Somehow this wrecked my NextPVR install. The devs at the NextPVR forum were incredibly helpful and responsive to helping me. Again guys – thanks!
Toronto Blue Jays have their first post-season game in over two decades on Thursday night and the NHL Regular season starts… Should be a fun night.
Haha. That hack Raffi Torres got a 41 game suspension. I hope it sticks. Guy is a complete douche.