Planted for Halloween
November 2, 2015 @ 10:11 pm 🔗 Post Link
Family, Buffalo Sabres, Halloween, Home, Gardening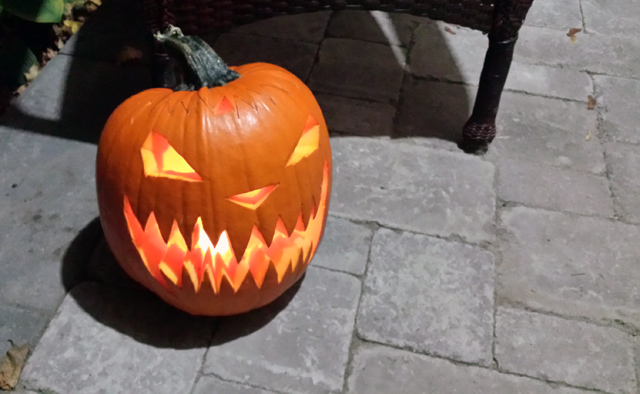 We spent a good part of Saturday in the backyard. Bdot was a planting machine and finished getting all the plants and shrubs we bought for our 'back hill' into the ground. After the plants get established I expect it should be quite striking. We have a lot of red with Coneflower and Ivory Halo Dogwood Shrub and Brilliant Red Chokeberry, bright yellow from Black Eyed Susans, Serviceberry shrub, and even some accent grasses: Sedge and Avalanche Reed Grass. Even with all those plants and shrubs there is still a ton of space free which will eventually be filled with Sumac. We stung up while lights along the back fence line which I really like the look of at night. It gives a nice sense of depth and warmth to the space. Bit by bit it is really coming together.
We got a typical number of kids for Halloween. It did rain a bit so it may have deterred some trick or treaters. We realized we need to up our Halloween game. Most of our neighbour's put on a fairly impressive display… tombstones, lights and a ton of Halloween decor. We had a pumpkin. The clear standout lame house. Hmmpt.
Unfortunately the side stone steps buckled and will have to be fixed in the Spring… Otherwise the yard is wonderful.
Sunday we spent most of the day at the nephew's. Not that we saw much of him… he hid away most of the time up in his room gaming. That gave us a lot of time to hang out with Barb's sister and Brother in Law. The Men spent most of the time outside putting a fence up and The Women worked inside on the loom. It sounds like a sentence from a century ago. Wow… I played with Bell Vibe a bit as well. You can stream ALL your channels to practically any device. It is was awesome. You had complete viewing freedom to go anywhere on your property. Bell seems way ahead of Rogers on this one. Not that I would concern going back to cable… but it was impressive. It was a relaxing afternoon and it was great to see everyone in Aurora.
I'm really enjoying the recent signs of life from the Sabres. They look organized and well structured and the effort seems fairly complete in the past 4 games; of which they won 3. Winning fixes everything.