Warm up already…
March 25, 2013 @ 06:03 pm 🔗 Post Link
bdot, hiking, Buffalo Sabres, Humber Valley Heritage Trial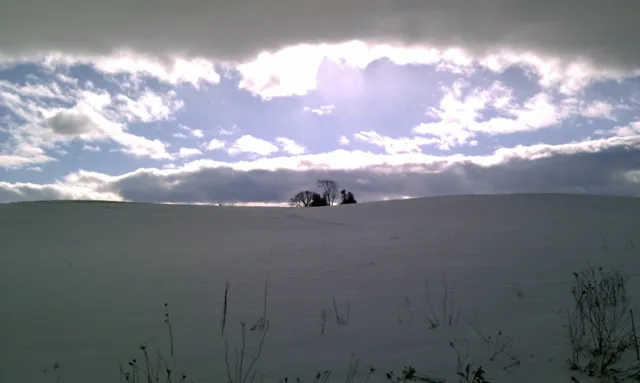 It was a pretty quiet weekend. Bdot spent most of Saturday at her sister's decorating Easter Eggs in the traditional Ukrainian style. One of her sister's friends is Ukrainian apparently. If I remember to (ha!) I will post a photo of her Ukrainian eggs. They turned out well, especially for an Irish girl. While she was out, I took the dog for a decent hike on the Humber Valley Heritage trial. (Their website has a new interactive map) I started where it meets on Castlederg Side Road and hiked to Duffy's Lane. The round trip was just over 90m. This is one of my favourite sections of the trail. A lot of the section runs along a river and the landscape changes a fair bit. Different types of forest, along water, rising/falling, bridges… I've hiked this section before but I went farther than I usually do and came across some interesting structures. There was, what must have been a seating area at some point and a fireplace. I guess the property owner build them at some point in the past but both are falling apart and don't appear to be maintained. Just before Duffy's Lane I spotted this old marker which should make it to be 100 years old. The dog seems to be enjoying the warmer temperatures as she was more adventurous than usual.
We've run out of Homeland to watch. It is crazy to think how quickly we have burned through 2 seasons of the series. Season three doesn't start until September. Ugh. We are looking at another series to consume. Sons of Anarchy looks promising, and I think it already has six seasons or maybe Downton Abbey… We'll see. Game of Thrones does start shortly however…
So the Sabres decided to win a few games igniting a glimmer of hope that they could make that heroic run to eighth. I don't want to see them lose, but really… who cares. So they make eighth, they'll likely meet the Pens. What do you think will happen there? *blammo!* They'd be lucky to not get swept. It looks like Darcy is at least staying on to mess up another trade deadline. I don't understand this. It isn't even debatable that the teams he creates fail. Look at the limited playoff appearances and results… and yet he looks to be in charge for future development of this team again. Ugh. I just don't get it. That said… I'd like Pommers moved, or least stripped of the 'C' and demoted to the second line. Stafford I'd trade for a pick. Miller… well…if I had more confidence in Enroth I'd be all for trading him. I think it is time. But without a solid starter, believe it or not I think things could be worse. So I'm reluctant. Especially with the dreadful defensive play this year. Where the frack is hockey heaven? I thought Pegula was building a hockey destination? The Sabres look more like a mediocre borderline playoff team at best. Thoughts of the Sabres as a legit contender feel incredible distant and unlikely anytime soon. I'd trade any player on the roster for the right return. Le sigh.
Easter is coming! That means two wonderfully short four day weeks in a row. Additionally Wednesday is an event day so – I expect this week should fly by. I get to fly solo on the AV for this event. Should be good times. We have a dinner with my family planned for Friday, and bdot's family Saturday.
Bdot did an update to the downstairs WC. It now has a little life. I took a photo but it turned out badly and does not do the room justice. She put up some art, towel hanger and TP holder. I think this will extend the time I spend in there for sure…