A Blue day in Toronto
February 2, 2013 @ 09:02 pm 🔗 Post Link
bdot, music, Winter, Blue Rodeo, Sukho Thai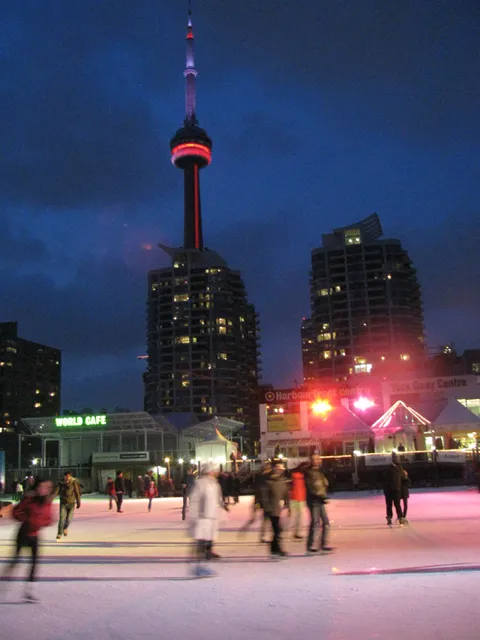 Yesterday we spent the day in downtown Toronto. We went down to see Blue Rodeo at Massey Hall. Naturally to take full advantage of the time in TO we went early. We've been doing a fair bit of skating and found a few interesting places to skate. The first of option was Nathan Philips's Square but after searching we found a cool option a stones throw from the Lake. There are 'DJ hosted' skate nights at harbourfront. It is pretty cool. Music, lighting, heating rooms to get your skates on…and free!. After finally finding the place it was a enjoying skate. There is a ton of construction going on along the shoreline and there are detours everywhere. I don't know why I liked the ice there but something about it was better than the ice at the ponds & arenas I've been skating at lately. It seemed faster, solid… *shrug* I'd certainly go there again. It was busy but the rink is a good size so it wasn't too conjested. After a bunch of loops we made out way up to Sukho Thai for dinner.
There were tons of restaurants in that area. We passed the Pravda Vodka bar it looked really interesting inside. It looked like Soviet Union HQ; it was awash in red drapes and Huge posters of Lenin. If we had more time I would have checked it out for sure comrade. This was my first visit to Sukho. The inside is somewhat dark, it looks hip and modern and was full of people. I think we were lucky to get a table. When we left we had to weave through people waiting to reach the door. They were all waiting because the food is very delicious. All the flavours of Thai seemed to be captured as I've experienced them before. Yum. For something different I tried a Thai Singha beer – I quite liked it, I'd certainly get it again. Clearly we were hungry we polished off a Shrimp Sukhothai Pad Thai, Spring Rolls and a Chicken Gaeng Kiaw Wan. I don't think we left a grain of rice behind.
I've been to a lot of gigs. Shows never start at the time listed on the ticket. Well, I guess Massey Hall shows are an exception. We arrived maybe 5-10m after 8pm (the listed time on the ticket) and Blue Rodeo were already playing… I don't think I've ever sat in the wings at Massey Hall before. I would surely have remembered. I've never sat in a tighter, more uncomfortable chair in my life. I must have fidgeted the entire show. I wouldn't be surprised if the chairs are the original wood chairs from 1894 or if they were designed for hobbits. They were torture. It really detracted from my enjoyment of the show. The sightlines from the wings are also horrible. If you don't get seating in the lower area then expect that 1/3 or more of the stage will be completely hidden from view. With our luck, the 1/3 of the stage that was hidden was were the drummer, lead guitarist and a good portion of where the show took place. We had an excellent view of the Engineer and roadie however. Sigh… Okay complaining over. Massey Hall is the landmark it is for a reason (clearly not the seating) it's the sound in the hall. It is amazing. Clear, rich, full clarity sound for every instrument, which is good because Blue Rodeo have a ton of musicians on stage. I'm not sure how long the keyboardist and lead guitarist have been with the band but they were clearly virtuosos. Every musician was given multiple opportunities to solo and solo they did. Wow… They played a lot of the expected 'hits' : Try, Diamond Mine, Hasn't Hit Me Yet, After the Rain. Encore was Lost Together. What struck me the most was how amazing Jim Cuddy and Greg Keelor's vocal harmonies sound together. I like to think of them as the Canadian Simon and Garfunkel. It was a solid show with a fair bit of audience interaction. We ended up getting a thumbs up from Keelor to close the show. Fun time… it is crazy to think this is their 25th anniversary tour! An enjoyable day with the wife.
Sabres continue to be Jekyll and Hyde. With a completely Hyde no-show performance against the Habs yesterday. How embarrassing.