Down to two teams
May 30, 2012 @ 09:05 pm 🔗 Post Link
bdot, hockey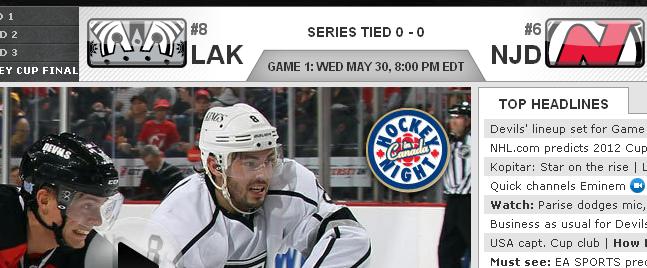 The finals of the NHL Playoffs start tonight with two teams no one picked to be there: The New Jersey Devils and the L.A. Kings. I usually definitively prefer one team in the finals to win… but not so much this year. I like the idea of L.A. winning because they haven't won a Cup and I think it would be good for hockey and the league. California is a growing market for the NHL, an L.A. win could be huge. The Devils however have won the Cup before but are likely the underdog. I like the idea of a 40 year old Marty getting one last Cup win before he retires. That is assuming of course, he ever does retire. I also like that the Devils have changed their gameplay to be more up tempo and that their 'star' players have committed to a 'team' game. So regardless who wins the Cup I'd have some reason to celebrate. I'm hoping for seven games of great hockey!
Bdot (the lawn watering mega-machine) and I did end up watching the end of Impossible Mission. It was standard fare for an action film. For some reason while the video played the surround speakers crackled and popped, yes like rice crispies 😛 I don't know why. I don't think the wireless surround speakers have never worked properly. Bah. I just turned them off, it was pretty annoying. Another thing to replace. Ho-hum. *Tosses the request onto the pile*
The AC has been out all season so far… Ugh…It is disturbing how hot a house can get without it.