It's Hockey Night Tonight
January 16, 2014 @ 09:01 pm 🔗 Post Link
Family, food, Buffalo Sabres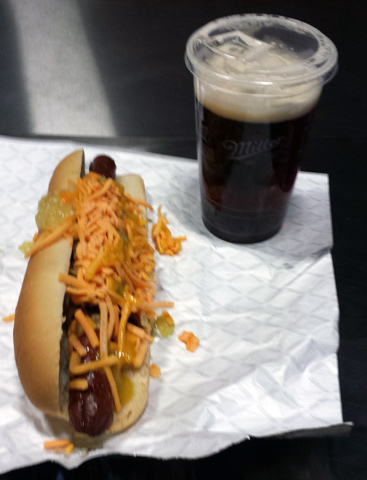 Once again my brother-in-law and I took advantage of ticket he gets through work to see the Sabres and Leafs. We met, which we thought, was really early with the plan to find a place to eat outside of the ACC… but somehow we really just got there just in time. Weird. We did take an inner city route mapped out by the GPS that ran us down Weston. The drive in was certainly more interesting down Weston than the Gardiner expressway. We passed through a bunch of subdivisions, Chinatown… I always wonder how all those small businesses stay open? Hmmpt. Since we got into the arena just in time we settled on the staple quick dinner option. The footlong bacon wrapped hotdog. Delicious. Thankfully we only go to a few games a year, I can't imagine how unhealthy it is. The game was fairly dull. The goals were unremarkable. It showed that both teams played last night. I couldn't help but notice how odd Leino is. He was skating around by himself. Didn't seem to interact much with his teammates. I dog this guy pretty hard. He is the Sabres highest paid forward and he appears to play with half-ass effort often and brings very little to the team. I understand he is untradeable. If money is no object, waive him and free a spot for a rookie. Meh. The game was fairly even. The teams went into OT tied at 3, then the shootout. I'm usually pretty optimistic about the shootout with Miller in net. Unfortunately he had a bad night. All three shooters scored on him. I doubt that has ever happened before. Ho-hum.
It was a fun night with JP however. (Happy Birthday!) I have so few guys nights out lately. We decided to grab food after the game at the Tilted Kilt which was very close to where we parked. It is basically hooters with kilts. The food (we had fish and chips) was very average for an 'Irish' pub. You know when you get triangle shaped fish it isn't going to be good. Surprisingly the coffee was decent. Anyway. If we go for food again we'd likely go somewhere else. Even with the 'scenery' it was somewhat underwhelming. Also… why in a sports bar isn't live hockey on? *eyeroll*
Curious as well to pass through RIDE. Seemed like a very random time to have it set up. I was driving home around 12:30….
We may take JP out for dinner and a movie this weekend. It's his 39th birthday, again
It is getting difficult to resist the Girgensons Jersey…. >___> YES CAPTAIN! (Sorry Steve)