A Somber Weekend
September 19, 2016 @ 08:09 pm 🔗 Post Link
Caledon, hiking, hockey, In Memoriam, Aunt Betty, Orangeville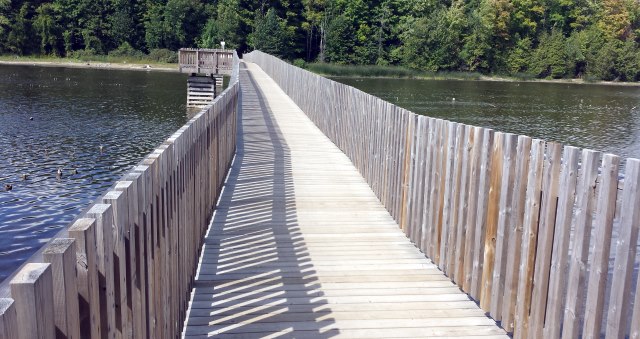 This was a sad weekend. Bdot's Aunt passed away. She was a lovely woman. She was extremely generous with her time. When we traveled to Ireland a few years back she let us stay with her and she drove us all over. It was fantastic and the trip would have been much less enjoyable without her insight. Cancer once again. It is remarkable how slowly new treatments seem to be evolving for this horrible disease. We had further sad news hearing that the Mom of one of bdot's long time friends passed away. The region experienced an incredible rainbow shortly after her passing. A small token I suppose.
Well September certainly means school is back. So are my horrendous drives into work. In the span of just a few weeks, my commute is now at least 30m longer in the morning. It however feels like an extra two hours. There is so much congestion, I drive from one stop and go section to another. Only people who don't commute in this area would be against any new highway creation in this region. It is a gawd awful mess EVERY DAY.
TFC! TFC! Wow, the boys mounted a rare come from behind tie yesterday. Altidore was amazing and helped give the Reds a berth in the playoffs! Now Seba can chill, recover and wait for the post-season. Finally something for Toronto sports to be excited about. The Jays have been laying a massive egg in September and in jeopardy of missing the playoffs.
We got out for a nice long walk yesterday venturing up to Orangeville for a walk around Island Lake Conservation Area on the Vicki Barron Lakeside Trail. The weather was a little warm but otherwise perfect. The trail was very busy, and why not the trail is a little gem. It is a flat and highly accessible the entire way around the lake. The town has built a series of very impressive boardwalks over sensitive wetlands. (Well, what are usually wetlands, this nasty Summer has dried up a bunch of areas) The loop was about 11k which was enough for me. It was certainly enough for the dog who was asleep in minutes once we returned to the car. The trail is one of the most impressive I've seen. There are many areas for seating, garbage cans and the path is well maintained and takes advantage of the many beautiful vistas. My only complaint would be the lack of maps and signage, there were a few times we weren't sure which direction to go.
Big US v. Canada game tomorrow night in World Cup. Already a must-win for the US. Should be fun!