Not down with the sickness
August 26, 2012 @ 10:08 pm 🔗 Post Link
bdot, food, friends, Alton Mill, Bernie, Ray's Bistro, Riverstone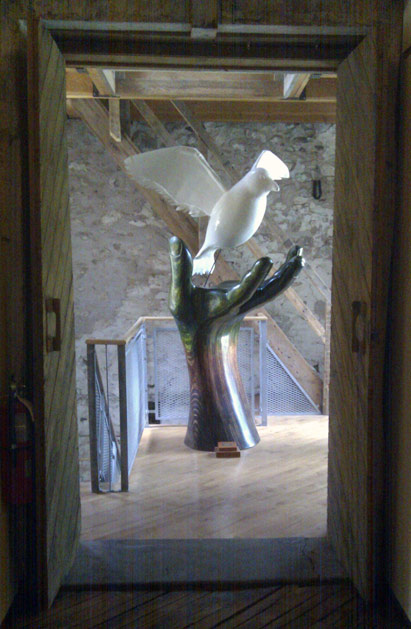 It's felt like a long week physically. I've been fighting a combo of the flu and allergies since Tuesday. I stayed home Wednesday, and I'm still feeling somewhat lethargic. Today we visited the Alton Mill since there was a wedding going on to see how they setup. They set up in the back 'falls' courtyard… we had thought about that as an option originally but the waterfalls are really loud… it is an intimate location however. It is curious to have one venue with so many good options. The one drawback to the Annex Courtyard (where we are currently holding the wedding ceremony) is it is very public and close to the parking lot. Really anyone can just stroll on by…. *shrug* The debate continues. We also stopped by the Millcroft Inn and we spoke with the Hotel Manager who said if we stayed (which we intend to) that taking photos on the grounds would be okay… Normally it wouldn't. I'm not really sure what they would do… but… we have clearance from the Inn's tower to shoot. After a morning of running around we had a yummy lunch in Alton at Ray's Bistro. I'm pretty sure we'll be returning there in the future. We were suppose to go to Woodbridge for an Italian dinner… but we were both beat after running around all morning. And it was hot… and gah… zzzzzzzzzzz…..
In the evening we suffered through another poorly picked movie.
This time Bernie… This was a rare time I disagreed with RT, which has it rating a staggering 92%, the critics loved it… I don't like Jack Black…so… I should have known better. I found the movie really slowed from the constant interview interruptions and the pacing was bad… and frankly it was just not interesting. I guess it was based on a true story… curiously the more Black played up his likable character, the more I disliked him. Oh well. Lesson learned. ⭐⭐
Friday night we has BBB and her family over. It is bdot's birthday on Monday so we had some cake and dinner to celebrate. Mmm cake.
Bdot has been itching to go golfing so we drove down the 50 to play the short course at Riverstone. The course is in a curious location. It is wedged inside green space that runs behind a subdivision. There are houses everywhere. A crazy person with a driver could do some serious damage. I guess that is why there is only a short course here, and the short course is very short. All of the holes were par 3 and under 100 yard many around 50… Still being the duffers we are it is very good practice. The short game and putting is a cruial part of golf so, it was still a challenge. The course is well maintained and the club house looks brand new… I think we'll return to try the championship course sometime in the Fall. There were only nine holes, which was enough as it was stupid hot. The course is setup rather oddly. The first hole we came across was 4 then the numbers seemed to be jumping all over… we played 1 last… *shrug* We hit a lot of extra balls since the course was empty. After golf we drove over to the Starbucks in Kleinberg for a cold drink. Yum, seriously needed the cool down.