Rosey night in Toronto
February 28, 2016 @ 09:02 pm 🔗 Post Link
Friends, sports, Cheerleaders, Toronto, Toronto Rock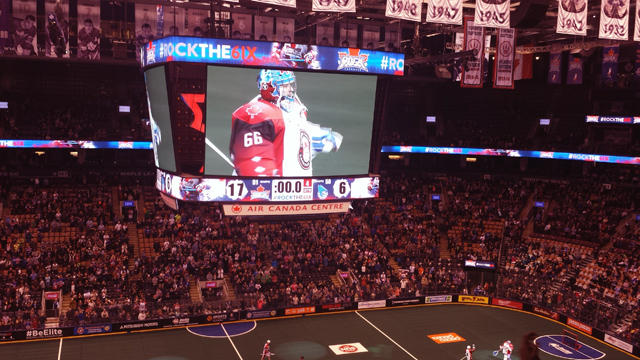 KK invited Bdot and I to join him and his family to see the Toronto Rock play at the ACC yesterday. I've enjoyed the Rock before… and it is one of the few sports Bdot will go see, and! KK's wife was coming, which she never does, so… we decided to go. Traffic was typical crap in downtown Toronto so got in just as the over the top national anthem's were sung. I thought the singer was going to have a seizure. Fortunately he didn't and the game started as expected. Within a few minutes the Rock were ahead by a few goals and really were never threatened the entire night winning by a massive 17-6. The Rochester Knighthawk's goalie was pretty awful. Periodically throughout the night the PA guy would yell something out with a strange loud voice. I couldn't figure out what the hell he was saying. I asked the Wife. He was saying 'ROSEY!' for the Goalie Nick Rose. Right. Well that makes sense. During the beginning of the game Rose was certainly the difference. He made a bunch of saves where it appeared every shot the Rock took went in. There were over 10k in the crowd. It was pretty loud. I found it difficult to have a conversation without speaking rather loudly. KK's kids enjoyed the game. We didn't get a ton of time to chat but it was still great to see KK and his family.
One thing that was a little unfortunate was the fact the Rock use cheerleaders. It was the first game I've been to with my wife and she expressed how gross it was to have well endowed women in tight pants gyrating like strippers at a family event. It was only women. No guys. So the pretense of cheerleading as a sport was hard to make an argument for. It is really just sexist exploitation. Remarkably, there are still a bunch of sports that have cheerleaders… Even some hockey teams. I've always felt a little embarrassed for them. You know all the guys are admiring everything on show. I do love women but I wonder if this display is really necessary. If it is, at least give the women something to look at. I'm glad the Sabres don't have them.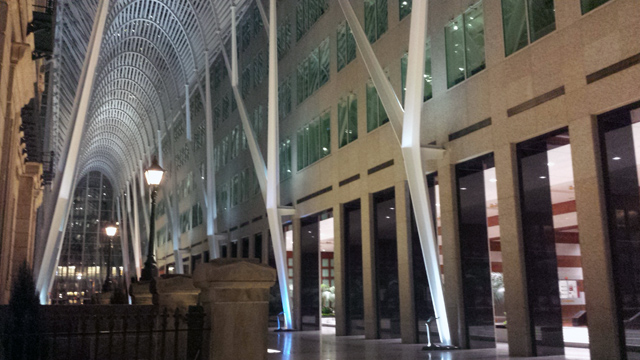 Bdot and I grabbed some food after the game at Marché. I mean gawd, we were paying $25 to park – we should stay downtown as long as we can. Bdot had very underwhelming dry and disappointing salmon and I enjoyed chicken pad thai. I think there are some options that are better off not getting later in the day. Salmon is one of them. We were up early to take remicat to the Vet so were lost stream rapidly after eating and left for home.
Remi's visit was for blood testing. We'll get the results back soon.
Sure glad the Sabres Western road trip is over. The games were starting at 10:30PM or later EST. Ugh… They played okay. Once again playing with the big clubs but not being able to beat them. Scoring once again the issue. Lehner was pretty solid.