Quintessential Quebec
February 24, 2013 @ 07:02 pm 🔗 Post Link
bdot, Canada, friends, Buffalo Sabres, vacation, Gatineau Park, Lindy Ruff, Quebec, Wakefield, Winter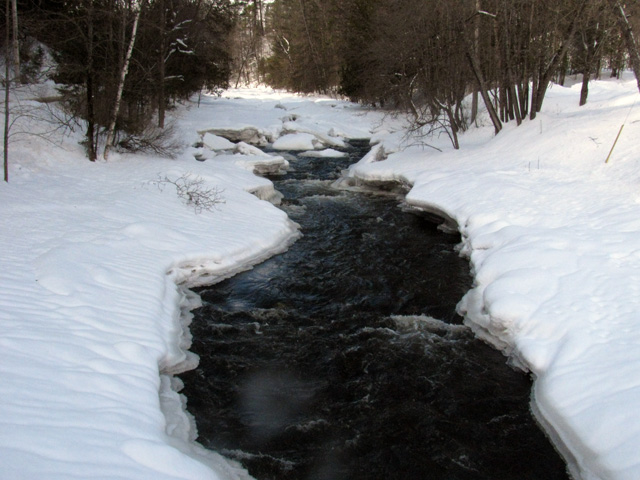 Wow. It feels like a loooong time since I've been home. Perhaps because it has been. Bdot and I headed North last Friday evening for a week vacation in the Ottawa region. We got home last night and I was home for an hour then I was off to the Sabres/ Leafs game. So really I don't feel like I've stopped yet.
I don't know how parents with multiple kids pack for trips. Just getting bdot, myself and the dog loaded and on the road always takes longer than expected. We eventually got ourselves set and left for our friend's place in Bethany. It is a useful stop for us because it gets us going and is a good distance to stop at. As usual our hosts put out a spread for food for us as we arrived late. We met their new dog, a Jack Russel they named Pepper. I took to calling her Eddi(e) from the dog from Fraser. After the initial yapfest Eddi calmed down and became very submissive and was looking for attention. I pet the dog once or twice, I guess. The evening was full of talk and pondering the merits of hasenpfeffer in Bugs Bunny cartoons. Alcohol may have been a factor. We pushed off early the next morning since we did have several hours to drive to get to Killaloe.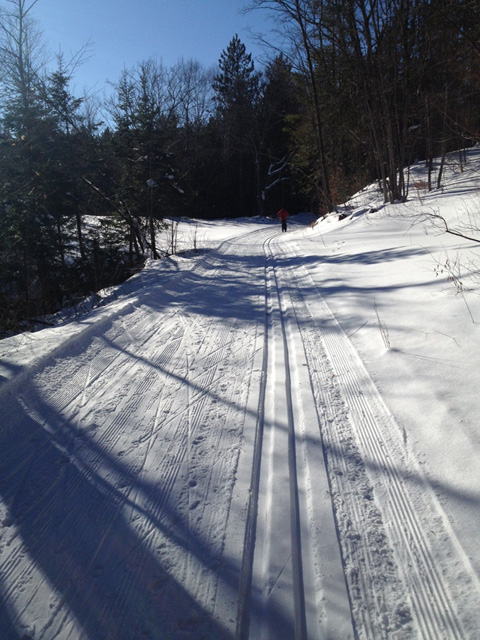 After getting settled at bdot's parent's place we ventured over to the Opeongo Nordic ski trails. It was our first time skiing there. There have a good number of groomed trails that are fairly well marked. We found an enjoyable, relatively easy route for a 2hr ski. It was a beautiful afternoon to be skiing. After skiing we got together with the Bethany crew, Trish and her two daughters at another one of our friend's that also lives in the area. I've never been to Jess' home. It's a lovely cottage with big open kitchen, lots of exposed wood and tons of space. We were greeted by their OCD dog who dropped an orange ball in front of us and stared at it. I tossed it, the dog brought it back. Repeat. Repeat. Okay… going inside now… dog brought the ball inside and dropped it in front of me… You can see where this is going. Later that night the dog had chewed the ball apart and was dropping a small piece of the ball in front of people. *whistles* After a massive dinner the lot of us crammed around a table to play Apples to Apples. I've never played it before. It was a curious game with words and prediction. *cracks knuckles* Yup. I won. I could see the game being fun when alcohol was involved, as it was. It was another fun night full of chat. We were focused on assisting Jess with her many man problems in the new digital age. Since there was more driving to be done, we headed to Quebec shortly after breakfast the next morning.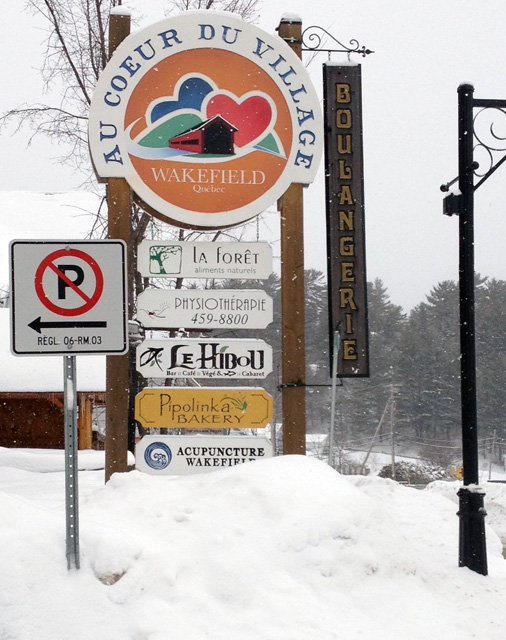 I'm quite sure we didn't take the most direct route to Wakefield. We travelled around the western side of Gatineau park. Sometimes a little extra driving is worth it however. The roads around the parks are on some gorgeous lands full of ponds and forests. Not surprisingly we passed many cottages. By the time we arrived in Wakefield we were starving. Unfortunately we quickly found our options were limited. We wandered around the little town for awhile. There are a few restaurants but a Monday night is not a time you'll find them open. The grocery store in town is decent and the beer store Depanneur Bonne-Heure was an incredible find. I think we dropped a ton of cash on local microbrews, there were so many options! After the long day we relaxed in one of the hotel's outdoor hot tubs. Our hotel, Wakefield Mill was a charming looking four story brick building. I guess bdot was originally impressed with some of the room photos she saw online. We ended up getting a room on the fourth floor, which seemed to be an addition. The rooms on that floor are cramped and lack the charm of the rooms below. So that was a little disappointing.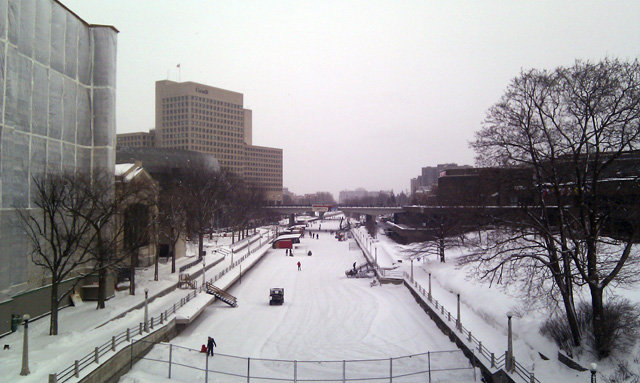 Tuesday we got passes for Gatineau Park from the front desk. Gatineau Park is incredible. The trails are all well marked and the ski tracks were set so it was an awesome experience. Oh, did I mention it snowed hard the entire time? We had time to see only a fraction of the park. We got caught in a mini-blizzard while we skied. Good times. We'll have to come back in the Fall to bike… for outdoor lovers this area is a dream. Interestingly we met an older couple that was skiing (ha, from Kitchener) who said they have been coming to the area for years. No wonder. There were tons of people from Ontario in all the parking lots. Language was never an issue. I think everyone in Wakefield is bilingual. After an afternoon of skiing it was nice to have a massage then soak in hot tub at the hotel. Awww. The hotel is beside a river and from the hot tub you could hear the running water. Lovely, even with a fireman talking off our ears for 20m. After the extended chill out session we had dinner in the hotel. Before dinner we ventured down to the cozy lounge in the hotel. We should have done this the night before. They had a fire going, pool table, large comfortable chairs… it was quite relaxing. A nice place to hang out. I tried a local beer on tap called ESB 1821. I thought it would be too bitter, but I tried it anyway… No sir! It was perfect balance of tart and smooth. I looked for it afterwards at 'the beer store' but apparently it isn't bottled. Hmmpt. This was our formal sitdown dinner. I enjoyed onion soup, an amazing tenderloin steak and bdot had scallops. The dessert was also very good we shared the chocolate and coffee options. Oh and coffee. We asked for a decaf at the end of our meal but clear when we were still up after 1 it was not. *eyeroll* Quite an enjoyable day.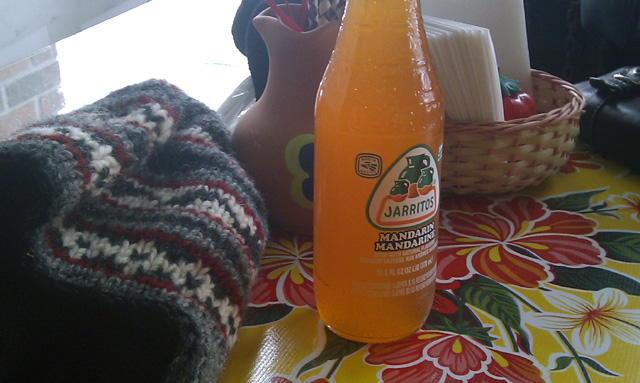 It was sad to leave Wakefield Wednesday morning. We should have stayed three nights. Oh well, next time for sure. We stopped in at the Pipolinka on the way out. Soon our bank account was on fire. Danish and cookies and croissants and Maple trail mix… Damn. So good. Even their coffee was amazing. Yes Wakefield we'll be back. We left early to stop in Ottawa for the afternoon. Wakefield to Ottawa was maybe 20m via the highway. The plan was to skate on the Rideau canal, and skate we did. We were both impressed by how well maintained the 7km skate trail was. Benches, stairs, signage, maintenance staff clearing the ice all the time. It seems like a wonderful resource that people of all ages seemed to be enjoying. After feeling very Canadian on the ice we opted for some tasty Mexican in the Byward Market to warm us up. Lunch was delicious food from Corazon de Maiz, they had a "XX" rated spicy sauce which was perfect for this white guy. I think you get the impression we really like the Ottawa region. Perhaps we'll move there one day.
The drive back to Killaloe was punctuated with the news of Lindy Ruff's firing from the Sabres as head coach. I didn't think it would ever happen. I certainly thought it should have years ago. I like Ruff but gawd, 15 years as coach in the NHL is unheard of. This season the Sabres are an absolutely embarrassing tire fire. They got shutout at home to the fracking Islanders last night. THE ISLANDERS! Disgusting. Ruff needed to go sure, but some of these spineless half-ass pussy players need to go too. Stafford, Pomminville, Hecht, Myers, Leopold, Leino… that is a lot of wasted cap space. Both Miller and Vanek's contracts are up soon. I can't see them sticking around to suck in Buffalo. The team is so very disappointing right now. They can't seem to do anything right. Siiiiiiiigh. The new coach inherited a grenade with the pin pulled. Good luck.
The evening was quiet as we celebrated my Father-in-law's birthday with an Apple pie. The rest of evening was on the couch with our disowned dog. It was a fun winter trip… and to think we pondered about going to Cuba. Ha!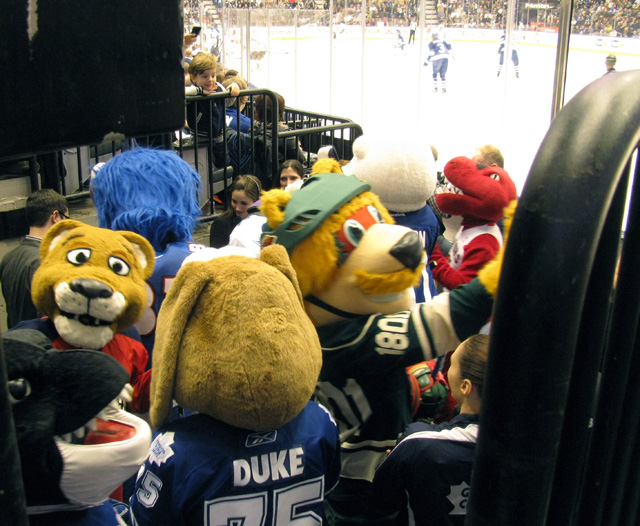 I got a last minute invite to the Sabres and Leafs thursday night from my Brother in Law. So I spent a ton of time in cars on Thursday. He is great company too bad the Sabres suck. Sabres didn't put up much of a fight. Their crap play continues. I bet the mascots above would have played better. Sigh. The seats were good at least.
Thanks to my mother for watching the cats during the weekend. Although it sounded like she enjoyed having the house to herself. 🙂