Can''t Pop it...
April 21, 2023 @ 10:04 pm 🔗 Post Link
APTBT, hockey, Linux, Wordpress, Geeky, POP-OS, Web Development'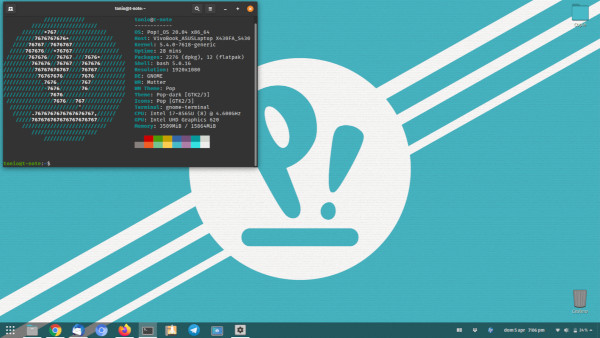 So I've been Pop! OS curious for a while... I installed it on a laptop and dislike the lack of customization quite a bit...but, I do like the app tiling, the look of it and how well it functions. I've wanted to see how it will run on my main system for a while now. But wow. It absolutely hates the hardware or something. Everytime I try to install it - the installer gets stuck in various loops 1) "Started Session x for user pop-os..." repeat, repeat... 2) Various drive errors ... so I removed the M.2 drive. It still happened. I removed ALL but one SSD drive. It still happened. I downloaded a new ISO and reburnt the image. It still happened. So, I have no idea. I let it run for hours once and the errors just keep coming. It NEVER gets to the install screen. Strangely, it isn't even the same error every time. So, something in the installer is wonky. I guess Pop! OS will never be my daily driver... I do wonder what it would be like with multiple monitors, however. Hmpt. I do love my Linux Mint. I think I can safely say I've permanently ditched Windows as my daily driver. I also tried to get to any type of pre-installer prompt and couldn't...I'll probably keep trying it periodically.
Bdot was away in Florida for a conference for a few days. She is home safely.
NHL Playoffs have started. Bolts crushed the Leafs in game one. The sky was failing. Leafs crushed Bolts in game two. Now they are winning the Cup. Yep. Lots of entertaining series. Rooting for the Canadian teams outside of Ontario. Go Oilers and Jets.
The long awaited Ukrainian counter-offensive has started. Not like a massive avalanche but with small probing attacks... Hopefully, they succeed and remove the terrorist r*ssians from their land.
UPDATE!
Great ball hockey game today. A really nice team win. Most of our players had a really good night.
UPDATE!
HA! I'm typing this now on my POP! OS install on my primary system! I got around the install by installing the OS on a different system then connecting that drive to the primary system. I'm sure this isn't recommended but it did work. :D Now I play around with the OS in a real context to see what I think... So far, so good! I do like the OS. That app tiling feature is addictive. It runs pretty well, it installed my nvidia driver correctly. Still testing game stability. (it is rock solid in Mint). Hmm, it may give Mint a run for the money. I just wish the taskbar could run applets. I like the notification center off the clock. Seems smart and noticeable. Printer installed correctly. All monitors identified correctly. I think I'll run Pop for a few weeks....