Outside again
December 19, 2016 @ 07:12 pm 🔗 Post Link
Winter, Arrival, caledon, Hockleycrest Ski Trails, Tr*mp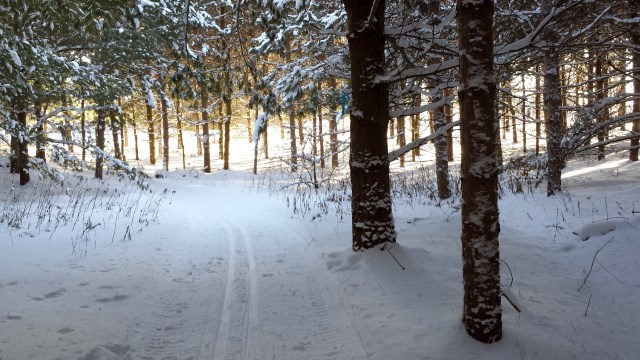 As I've said Winter has returned to Caledon. We have had two significant snowfalls and the weather is staying cold enough to keep the snow on the ground… which means we can ski! Last year we couldn't because there was simply never any snow. So this was the first weekend we could go and we did. We stumbled upon a blog that mentioned FREE ski trails north of highway 9 along Airport road. (the blog also provides daily ski condition reports!) Some wonderful individual caretakes and tracks an impressive series of beautiful trails. First getting there…. Here is the approximate parking location on google maps. The parking lot is on Side Road 5 PAST the entrance for the Taoist International Center on the same side of the road. It is the same parking lot used for Bruce Trail hiking access. You'll see signs for skiing in the parking lot. If you have never skied here before, and I can't stress this enough, BRING A PRINTED MAP. While the trails are well marked there are still very confusing and there are some one-way trails as well. We had to spot A LOT to reference a digital map – which meant finding a phone, taking off gloves, reloading the map… repeat this every 5-10m and it gets tiresome fast. We are intermediate skiers and found most of the trails to be our speed. Except for the downhill section in (9) The Pasture which was murdery for us. The area itself is gorgeous with many dense forests and vista. Despite the frustration, I'm sure we'll return (with a map!).
Saturday night we went out with Bdot's sister and BiL. First stop was meat at the Keg. I enjoyed my steak quite a bit. We must have been hungry because all four were cleared. The original plan was to see our dark Christmas favourite's new movie Bad Santa 2. Not surprisingly – it has a very short run in theaters and was bumped for the massive Star Wars – Rogue One. We juggled between Christmas Party and Arrival as an alternative. We ended up seeing the mind bending sci-fi film Arrival. It is quite a trip – but certainly more drama than action. Basically aliens land on Earth and the film the story of how we attempt to communicate with them. The movie questions the importance of how language itself shapes the world around you and your perception. It was a pretty heavy film. Maybe too heavy for the type of evening we wanted. That said, it was an incredible film that will certainly leave you thinking. We returned to Anita's and watched the original Bad Santa to realign our Christmas spirit. It was a fun night.
Christmas is only a week away!
Oh and the last Hail Mary to keep Tr*mp out of office, the electoral college, did nothing. So… it will be 4 years of Tr*mp. Best strap in kids…