Orange CollingSound Anniversary
October 17, 2017 @ 09:10 pm 🔗 Post Link
bdot, hiking, sabres, tanga, Anniversary, Blue Mountain's Scandinave Spa, Bruce Trail, Collingwood, Craigleith Manor B&B, Hungry Sumo, Orangeville, Owen Sound, The Tremont Cafe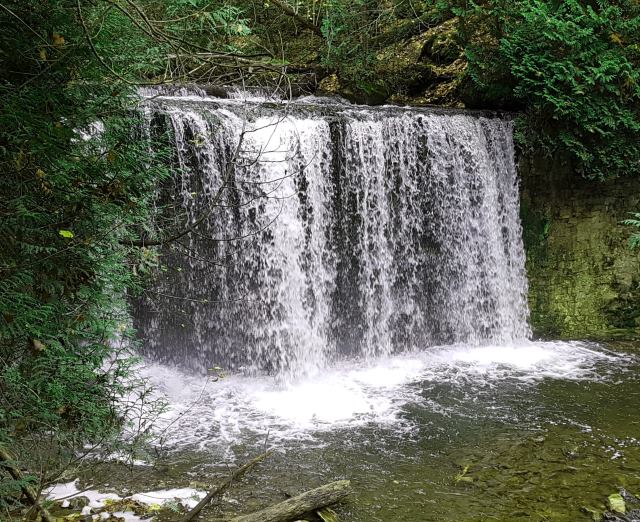 Last Friday was our 5th wedding anniversary!
Wow. Time flies huh? We planned a Bed & Breakfast getaway for two nights in Collingwood. The 5th anniversary gift is traditionally wood, so not surprisingly we spent a ton of the time in the woods hiking. The focus was to visit as many of the spectacular waterfalls in the area as we could. The B&B we stayed at was the Craigleith Manor B&B. The forecast for the days looked grim. There was a chance of rain every day. regardless, it was booked, so we trudged on. My Mom came up Thursday morning to watch our animals. Who got mostly good report cards.
We eventually, got out the door and debated on what our first hike would be. It was gray outside, but not raining. We settled on Hogg's Falls as our first stop. Originally we planned on hiking from Hogg's Falls to Eugenia Falls and back, but we arrived later than expected and it was too far to hike with the limited remaining daylight. Instead, we did a loop around Hogg's Falls then drove to Eugenia Falls and did a second loop hike there. The Hogg's Falls hike was quite nice. Some of the sections were very steep and it was always muddy. The Falls itself was quite impressive. Eugenia Falls was hard to see due to the landscape and viewing angles. But the hike was equally nice with some old abandoned structures and curious mossy rocks running along the river. There were some concrete archways, which we found out were remnants from an abandoned tunnel, which was going to be used to generate power from the Falls.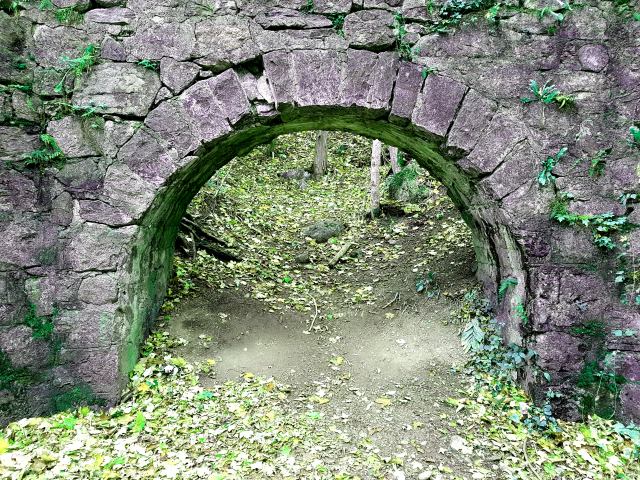 After the hike we finally arrived at the B&B. It's located in a lovely Collingwood subdivision. The B&B looks fairly modest from the outside but was lavishly decorated on the inside. We had access to a fridge, kitchen, lounging area and of course our room. The host was charming, insightful and made every effort to made our stay comfortable. Each morning we were greeting with him preparing our breakfast, eggs done –exactly– how North Americans like them. We even met their dog Rufus. As it was our anniversary, we came home after dinner to find an anniversary balloon tied to our door. I loved the little touch.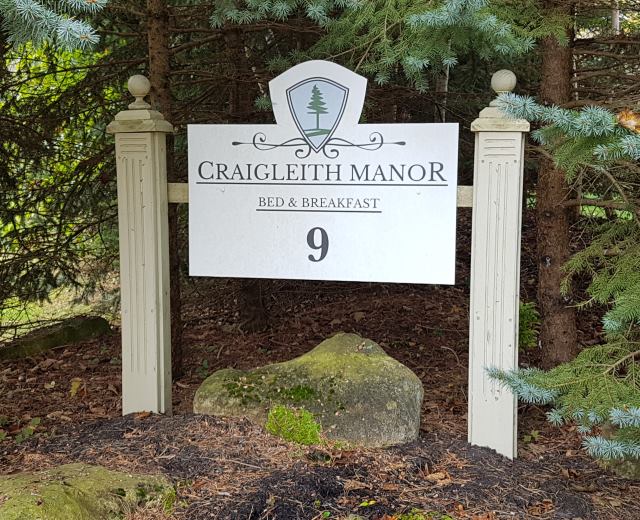 Bdot was craving sushi, so our first dinner out was at the Hungry Sumo. I had the Bulgogi dinner and we shared a Green Dragon roll. The food was fresh and delicious. I had to be stopped from eating my plate. In the evening we were able to relax in the room and watch some Netflix. It was a great way to wind down the day.
Friday morning we got off to an early start and hiked in the Pretty River Area of Collingwood. We crossed the highest point along the Bruce Trail and several great vistas. Again, it was dark and gray at times but didn't rain on us. The trails were muddy and slippery but manageable. The area had plenty of rock fissures and dense forests. It is certainly a pretty area.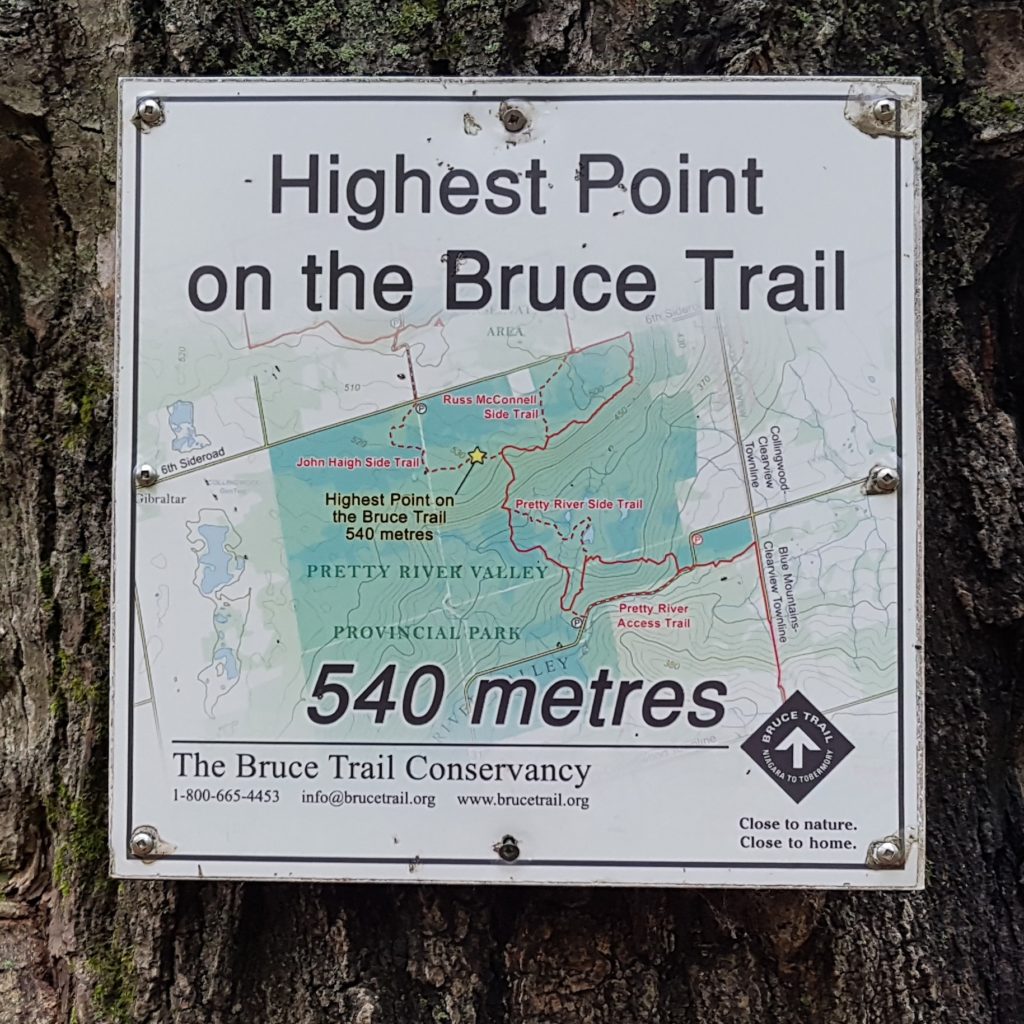 The perfect afternoon after a morning of hiking would be to relax at the Spa, and that is what we did. The afternoon was hottubs, steam saunas and relaxing at Blue Mountain's Scandinave Spa. The Spa had added a new building since our last visit. The spa now last two saunas, a wood fire sauna and an infrared sauna. Both were great, I still prefer the old school wood burning sauna however. Once we were suitably relaxed we need to be fed. Our anniversary dinner was at The Tremont Cafe. We have been to the Tremont many times before and it never disappoints. I had amazing Halibut and bdot enjoyed a mixed seafood plate. We couldn't resist dessert and had Crème brûlée with seasonal spices and a chocolate tart. The belts were let out a notch for sure. An incredible dinner. After dinner we stopped at the Collingwood's well stocked LCBO and returned to the B&B to enjoy a beverage.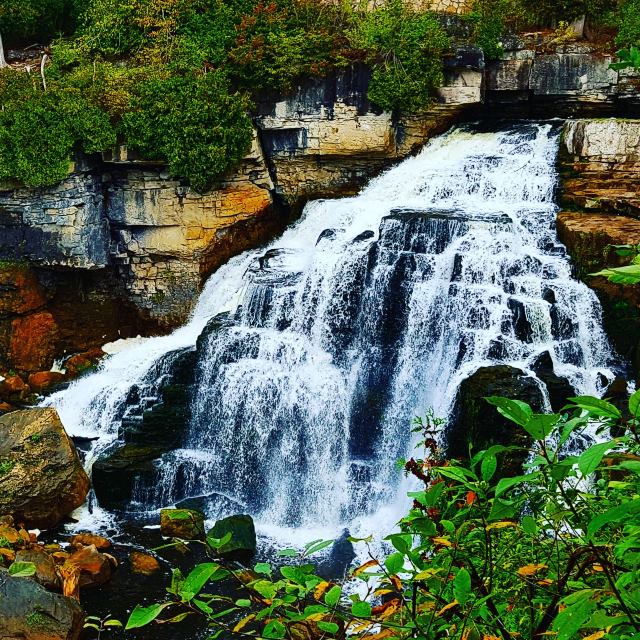 The next morning we sadly said goodbye to Collingwood. We love the town and will be back. We took advantage of being north however, and drove over to the Owen Sound area for the afternoon. The first stop was for some apples and to chase chickens. Next we stopped at Inglis Falls. We paid to park (only to discover free parking across the road as we were leaving) – eyeroll. I don't know what we paid for as the washrooms were locked. The Falls were stunning and you can see them quite well from the platforms. The Bruce trail runs through the area so we did a nice loop around the park. We did a shorter side trail in the park, later to find we should have just stuck to the Bruce Trail itself. It is a well-forested area running through some massive rock fissures and formations. You had to pay attention for sure. Next time I think we'll try the trail that runs between Inglis and Harrison park. All the rock climbing made us hungry. We took a chance on some well rated local Mexican at Casero Kitchen Table. Damn! It was sooo good! The most flavourful Mexican I've ever had. We will stop by again if we return to Owen Sound.
The final stop was in Orangeville. Bdot did a bit of clothes shopping then we finally made our way home. It was an active, enjoyable, few days away.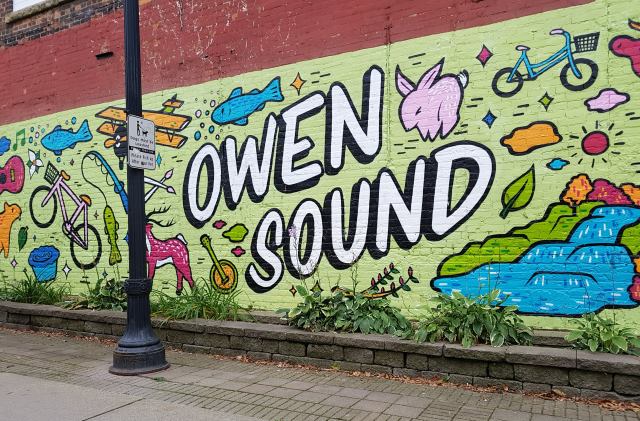 Well, the Sabres finally won a game. They look for their second win tonight.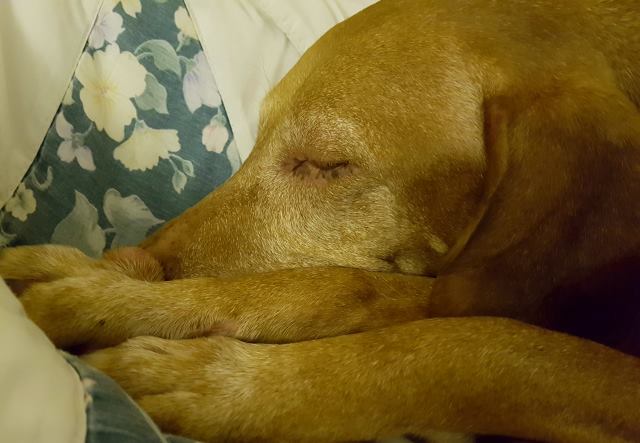 Tanga our dog had minor surgery today. She had a lump (which we called the goiter) removed. She is doing well and we be home tonigh
UPDATE!