Moldy mess
January 20, 2014 @ 09:01 pm 🔗 Post Link
caledon, home, media, music, Game of Thrones, Humber Valley Heritage Trial, Indie 88.1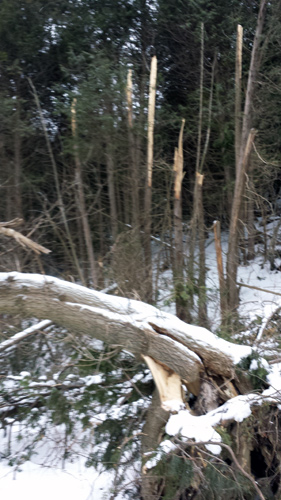 After a fairly busy week it was nice to stay home this weekend. The plan was originally to head up to Barrie for dinner and a movie with my Brother in Law, but they are in a house of sickness. So that idea dematerialized.
Being at home we tended to household issues. The most pressing is the smell in the basement, which we figure is mold. The eavestroughs are frozen solid and were in bad shape to begin with. They have needed replacing for years, we know this, it would seem this neglect has finally caught up with us. All the extreme weather has forced a ton of water along the front of house pooling it in various areas where it isn't draining off the roof properly (which is everywhere). We figure one of these pools has found a crack in the foundation and is now growing stinky mold. It is a nasty, dry, musty smell… it seems to vary in intensity from day to day… but has not gone away for a few weeks. We weren't certain where the smell was originating from. This weekend allowed us to move a bunch of boxes and junk to access the exterior wall we thought the smell was coming from. We think we found the general area in the corner of my office toward the interior of the house to be the source. What to do about it? Ugh. This could result in the excavation of the front garden to access the wall, not to mention it jumps the need to replace the eavestroughs to the top. Goodbye backyard patio? Sigh. Quite a piss off and surely unhealthy to be sucking it in.
When not dealing with the household mess, we watched a bunch of Game of Thrones episodes. Bdot is now onto season three! It is interesting to hear her insight in how the books are different from the video. Many curious differences in how plots are developed.
We had our first walk in the HVHT since the ice storm. There was a fair bit of damage but I was expecting it to be worse. It is really bad along Humber river. I bet the clean-up will take months. So many downed trees.
Bdot had another call with Rogers this weekend. It seems every weekend we need to call them to fix something. *eyeroll* Once again it seems a bunch of issues were fixed. Again… we won't know until we get our bill. Dealing with these clowns makes me so angry. The only real alternative would be to switch to Bell. *facepalm* So much for options. It is very frustrating. Because one support person doesn't take notes properly *in our file* – we've have been dealing with BS for weeks. Also bdot was hung up on 2m after finally getting through after waiting for over 30. Yup. No call back. Professional.
I guess I was overdue for a new pair of glasses. Last pair was October of 2010. I had an exam and picked out a new pair on Saturday. I'll be sticking with the geek look. I get glasses so rarely because of how much they cost. I got clip-ons again. Hopefully I won't lose them. Looks like bi-focals next year. Ugh…. aging.
I rag on commercial radio a lot. Mostly because it deserves it. Bdot however found a promising station called Indie 88.1. The bar is admitted really low but this station is pretty solid. It is what The Edge should sound like. An interesting mix of old and new alternative rock. A few lines from the station's manifesto: "And we put music first/ The artists. The audience. The inspiration. / The songwriting. The instruments. / Popular. Obscure. Signed. Unsigned. / We put the quest to uncover, discover and re-discover it first. / Then we play it. Interview it. Debate-it. Stream-it." Sure sounds promising. If it achieves half that it will be twice the station the redundant, lame, disappointing Edge is.