Help. I'm melting.
June 18, 2012 @ 08:06 pm 🔗 Post Link
home, PC gaming, weather, Torchlight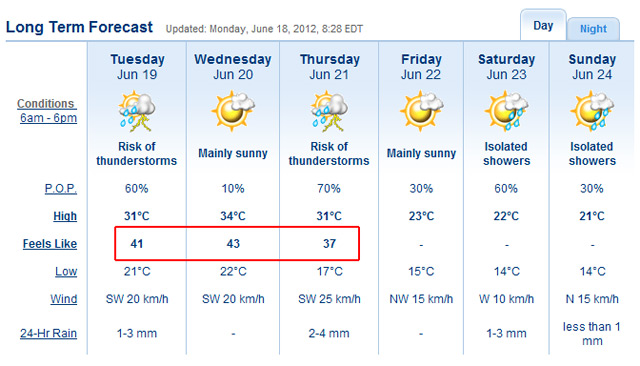 Oh bloody hell. Wednesday is going to reach 43. That is 109.4 in American (Fahrenheit :P). Considering I find mid to high 20s comfortable, I'll be hiding from the burning ball of light for three days it seems. My poor lawn. *frownyface*
Sunday was combo lazy/run around get things done day. A bit of a clusterfsck day. It felt like we were rushing to get stuff done in between periods of recuperation. Weekends seriously need to be three days. I played a bit of Torchlight (PC) last night. I think I enjoy Torchlight more than Diablo. The multi-stage boss fights (fail stage 3 start over at stage 1… what?) and the inability to save anywhere really grind my gaming ass. Using checkpoints seem like lazy programming to me and a constant hindrance to game progression. Rewarding? NO. Annoying.
I pulled out another bucket of weeds from the backyard yesterday. The backyard makes me sad. I'm considering nuking it from orbit. I think we have no choice but to resort to nasty chemicals or concrete. Sigh.
After the traffic fiascoes of last week, I tried the long route in the morning. It takes about 1h20m. It is the route I take home. It is an okay option. The problem is half the route is single lane. If I get stuck behind a slow-poke (which is common) then I could be late. Really a no win situation. I'm focusing my job search North of the 401. *eyeroll*
The Nick Wilenda wire walk across the Falls earlier this week was crazy. Some of the photos I've seen from the walk are phenomenal. It makes me queasy just looking at them.