A Blinding Intimacy
June 6, 2012 @ 09:06 pm 🔗 Post Link
astronomy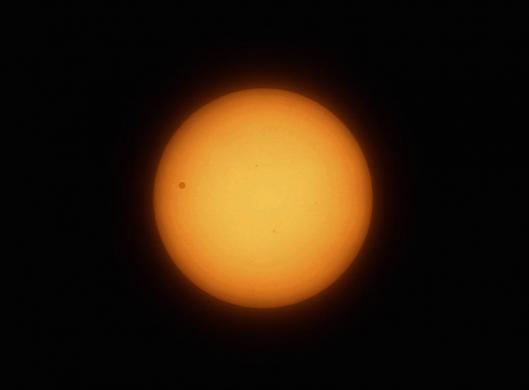 Ahh the transit of Venus. I'm not sure what the rest of the world saw but… I'm North of Toronto and it was a very bright cloudless afternoon/evening and I didn't see a thing. Just the typical bright ball of blinding light. Yes they go on and on about wearing special eyewear when looking at the sun for eye protection but you also need special eyewear to even see anything. The sun was simply too bright to see anything with the naked eye. Disappointing. That said I only had a few token looks upward anyway. Bdot and I were busy most of the evening with our engagement photos. I'm not sure what I was expecting. I guess more artistry or input or something… I haven't seen the photos maybe they are… but it felt like a long time being posed and holding awkward positions for three hours. Fortunately I won't have to do it again which is good because I don't think I would, especially after work. That was a mistake. I underestimated the effort and energy it was going to require.
Additionally it was stinking hot and I was dressed for work so I was uncomfortable the entire time. I hope the photos are good. I'm concerned because our photographer said her main camera lens didn't appear to be responding properly and the shots could be out of focus. Good lord. It was interesting. It was strange being told to instantly act intimate like it can be magically switched on. I'm very interested to see what the camera captured. The Kelso Conversation area where the shoot was is pretty impressive. It will require another visit under more relaxing circumstances. By the end of shoot I was exhausted and it felt like a very long day. Zzz.
The Kings can win the Stanley Cup tonight. I don't think they will but it wouldn't be surprising either. It would be the first Cup win for the L.A. franchise.