At least the hotdog was delicious
December 24, 2011 @ 10:12 pm 🔗 Post Link
Family, Buffalo Sabres, Air Canada Centre, Honey West, JP, Food, Work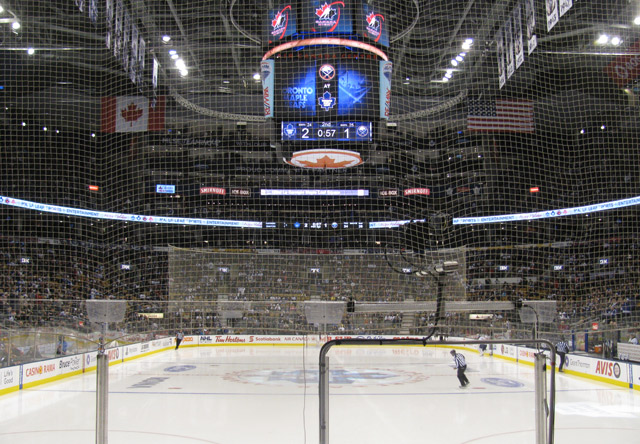 Back in November I got tickets to see the Leafs and Sabres at the Air Canada Centre. The game was last night. I got off work early and the night unfolded according to schedule after that. I met up with my Brother in Law at the parking lot at King & the 400. The drive in was pretty typical for heading into downtown Toronto… slow and frustrating. *shrug* We parked very close to the ACC. I think there is a correlation between the severity of the financial rape you receive with the proximity of how far you park from the ACC. Unfortunately I don't think I'll walk for a week after last night. Sigh. Anyway… We decided to simply grab some food from inside the arena. We traversed the entire concourse and settled on Bacon Wrapped hotdogs with Honey Mustard Onions. Yes, it looks like something a coyote puked up, but it was delicious. Beers were also stupid expensive. Two large draft beer were over 30$. Gah! Brutal.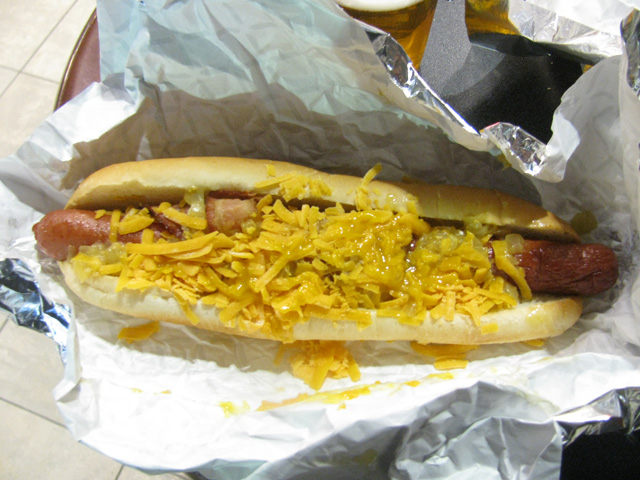 Well, the Leafs are no longer the Laughs. I could see all six games between the Sabres and Leafs being one goal games and last night was no exception. The ACC was full. Unlike Sabres/Leafs games in Buffalo, that are full of Leaf fans, the same doesn't happen in Toronto. I think there was maybe 10% of the crowd in Sabres attire. Hmmpt. It was a entertaining game. Lots of hits, powerplays and goals… Unfortunately the Sabres came up short losing 3-2. My tweets about the game:
Back from #Sabres #Leafs… decent effort, but the shot count is misleading… not many great chances. Miller was okay. Stafford …disappointing… Miller chant after second goal was deafening… ho-hum. Also, Vanek really missed in the 3rd. #Phaneuf is a big pussy. Goes after Roy & Vanek, wanted no part of Regehr or Kassian… *eyeroll*
It was a fun night, JP is great company.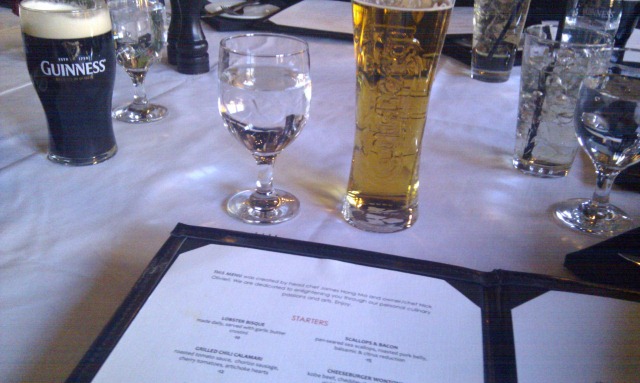 Today was my final day of work before the holidays. We had a nice lunch in downtown Burlington at Honey West. I'm quite ready for the holidays to begin.