Hello 2012
January 2, 2012 @ 10:01 pm 🔗 Post Link
Family, zappy, Flashback diner, Jane Eyre, Sibling, the Debt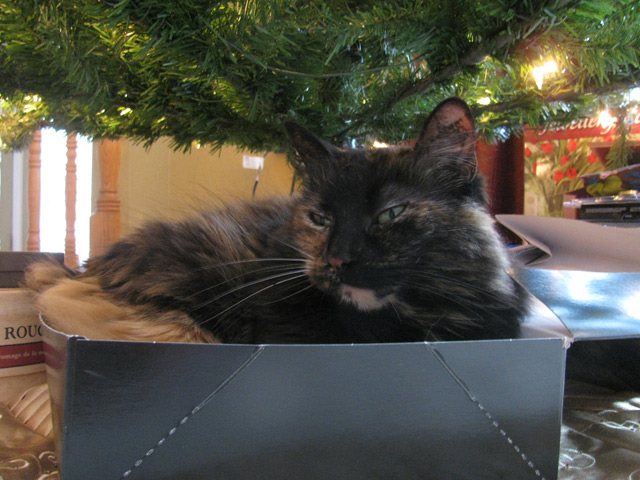 We welcomed 2012 at my sisters. The plan was to pick up Thai at Bangkok Thai Cuisine in Bolton for dinner. Alas, it was closed, the owners are on vacation. I think they go away every year at this time and every year we fail to order Thai at New Years. The backup plan was to get Indian take out from Tara in Barrie. Once bdot got home we put our second dog away as K&S were picking him up later that night. Bye PITA dog! Then we were on our way… Downtown Barrie was bustling with New Year's Eve festivities, people were everywhere and some of the roads were blocked off. So getting in and out of the downtown area took a little longer than usual. By the time we got to my sister's we were both starving. (Smelling the aroma of Indian for 20m didn't help either…) Dinner was yummy and quiet. I was all business. I ate a stupid amount of food. We were thinking of going out to see The Girl with the Dragon Tattoo but decided to stay in since the U.S. / Canada was so intense… and Canada held on for a 3-2 win.
Like myself, my brother in law, JP enjoys darker beers so we decided to try some of our premium specialty beers since it was New Year's Eve. First he cracked open Muskoka Brewery's Double Chocolate Cranberry Stout. Wow… the beer has a ton of flavour. I didn't find it very chocolately, bdot said she did. It was a tasty sipping beer. I would imagine chugging these beers would led to frightful hallucinations. The second beer we tried was Lake of Bays Brewing Company's Mocha Porter (thx Sis.) which was not as heavy as the Double Chocolate Stout. I enjoyed this beer slightly more and both were full of flavour and alcohol knocking me on my ass. After the hockey game was over we watched two movies. The first was Jane Eyre an unexpected choice for New Year's Eve but an interesting film nevertheless. Mia Wasikowska starred in title role and had an exceptional performance as the troubled Jane. The novel Jane Eyre was released in 1847 and must have been somewhat innovative at the time. Not only did the novel have a strong female led character but it also looked at the dark side and abuse at charity schools. The film was often shot with a dark colour palette which underscored the tense emotional state of the characters and setting. Yes, I've finally enjoyed a film adaptation of a Charlotte Bronte novel. Quite an interesting and intriguing story. ⭐⭐⭐½ By contrast, the second film was a simple brainless action movie. Battle : Los Angeles seemed overly long and lacked sufficient action for an action movie. The plot seemed to be aliens come to Earth to take our resources and proceed to extinguish the human race, go Humans go! Kill the bad aliens! The aliens never really had a personality and the small bad of heroes the film follows had pretty shallow one dimensional characters. The effects were good but everything else was ho-hum. I was pretty disappointed I endured through a nasty headache to watch the movie until the end. ⭐⭐ It was a pretty quiet night but a nice way to welcome in the new year.
I woke up fairly late New Year's Day and by that time everyone was hungry and itching to get something to eat. Most of the local diners were closed to we drove into Barrie and for all-day breakfast at Flashback diner. I figured the diner was good when we got in people were lined up and waiting maybe 20 deep! And it was… I think they had the best pancakes I've had outside of home. Their Rye bread was also exceptional. The poor waitresses seemed worn out as I'm sure they were running around for hours but were still polite and receptive. I'd certainly go back, it was on par with our local gem Flapjacks. Coming home down the 400 it was dreadfully gray, miserable and raining. It was like a setting out of Jane Eyre. Ho-hum. Somewhat depressing. In the evening we watched another movie. This time it was the espionage thriller the Debt. As with a lot of films that take place in different times, how information is revealed is key to understanding the plot, characters and what is going on. The start of the Debt jumps around a far bit and I was somewhat confused with the different characters and who was who. I think the editing could have been better, or the story unfolded in more understandable manner for the viewer. I did get it eventually but the story seemed a little awkward at times. The premise was a few Jewish agents were going after a Nazi war criminal in post-war Soviet Berlin. I enjoyed the numerous moral dilemmas the characters faced especially dealing with such heavy topics. Overall it was quite entertaining, well acted and after the film settled in moved along quite well with twists and unpredicted sub-plots. A solid film. ⭐⭐⭐⅔ Holidays are over. It is back to the grind tomorrow… It was a lazy, restful time off.