A hole in the Ground
November 10, 2014 @ 09:11 pm 🔗 Post Link
Home
Aww yes. The ongoing saga of the downstairs' water leak. I've torn down all the drywall on the wall along the window side of my office. It is quite a mess. You can see deterioration of the mortar just under the window. The majority of it is loose, brittle and crumbling. The garden in front of the window was very high, just under the height of the brick window ledge outside. We figure six years of improper drainage due to the faulty eaves allowed water to sit there. Eventually that water seeped in through the faulty mortar and created the mess that we have removed. So I dug down over a foot along the exterior wall to see what was there. Surprisingly nothing. We couldn't find any cracks. We water tested the area and still no leaks. On one hand it would have been good to find a crack so at least we would know the cause and could address it. However finding nothing is a little disconcerting. So the best we can do is patch it up and re-drywall. We may do some patching on the exterior wall as well. Houses are a lot of fun. Sigh.
In other home news, we are going forward with a small portion of the yard landscaping plan. We are hoping to get a retaining wall installed along the back of the hottub patio. This is important for water drainage. Last season water drained under the patio and made it heave rather dramatically. We are hoping a retaining wall can divert the water to the lawn. It will also act as a bit of seating area as well. I picked up a contender for the retaining wall brick today. I think it looks pretty decent.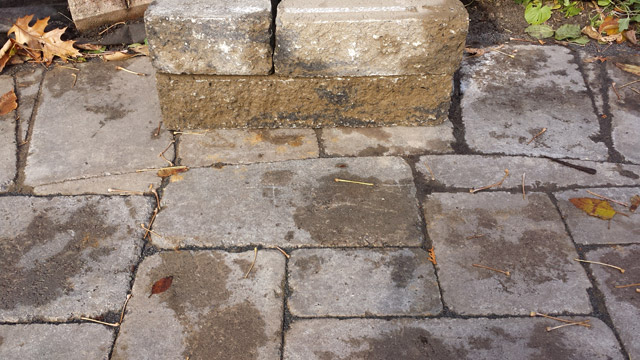 Other work we are getting done includes the walkways on both sides of the house and the front patio. How much gets done on the weather. Landscapers can work until the daytime temperature drops below zero.
We planned on going to see Fury in the theater but after bdot's monstrous work week filled with overtime… we were content to stay in this weekend.
Nothing to report on the job search other than it continues. Ho-hum.