Glorious Goo
December 21, 2015 @ 10:12 pm 🔗 Post Link
Friends, home, Buffalo Sabres, Joeyicus, Office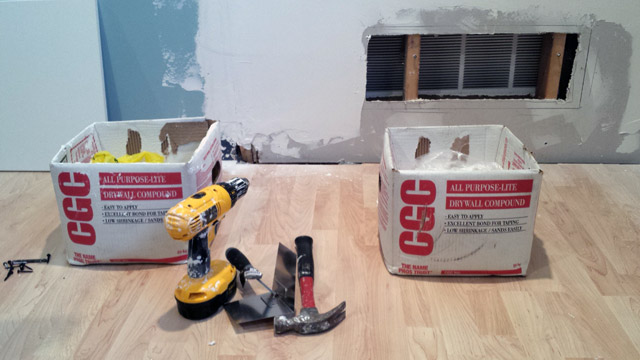 My office is an unusable mess at the moment. This is good. Since the water damage it has stayed in a pretty ugly state of disrepair. The walls had gaps and holes were unfinished and looked really bad. I'm no handy. That gene ended with my Dad unfortunately. But I do have some handy friends. Joeyjoe has been gracious enough to come over a few times last week to mud my office walls. The mud (henceforth called goo) is a pretty amazing product. It fills all the holes and cracks to create a nice flat surface. If you get it on the floor it rubs off. Add too much? It scraps off. It is very forgiving. We have applied three coats and many of the ridiculous imperfections have been fixed. And there were some incredible issues and sizable gaps to fill. Bdot and I are even starting to contemplate paint colours and desk options. Phew. A huge thanks to JoeyJoe, obviously nothing would have been possible without your guidance (and tools!). Thanks buddy!
We invited a bunch of friends over for a pre-Christmas gathering. 'Tis a busy season and sadly only half showed up. It was a fun but fairly low key evening. The party goers ended up playing Cards Against Humanity. JoeyJoe won. Not sure what that says about him.
Sunday we were pretty bagged. I still feel tired but have a ton of errands to run today. So…. update y'all later.
Sabres got robbed against the Hawks. What an officiating joke the NHL is some nights. The game was virtually penalty free. But I guess the NHL darling Hawks can't get beat by the lowly Sabres so the refs called TWO penalties with less than 3m left to give the Hawks a 5 on 3 powerplay. The Hawks pulled the goalie for a 6 on 3 and eventually scored. Seriously… how often are double minors called on the same play… let alone with under 3 left to play. Never. They aren't. Sure the Sabres got a make-up call in OT and could have still won in the shootout… but IMHO they shouldn't have even been there. Disappointing.