Gold and a Brief Getaway
May 19, 2015 @ 07:05 pm 🔗 Post Link
Canada, hockey, Black Sea, David Letterman, McFarland USA, Worlds 2015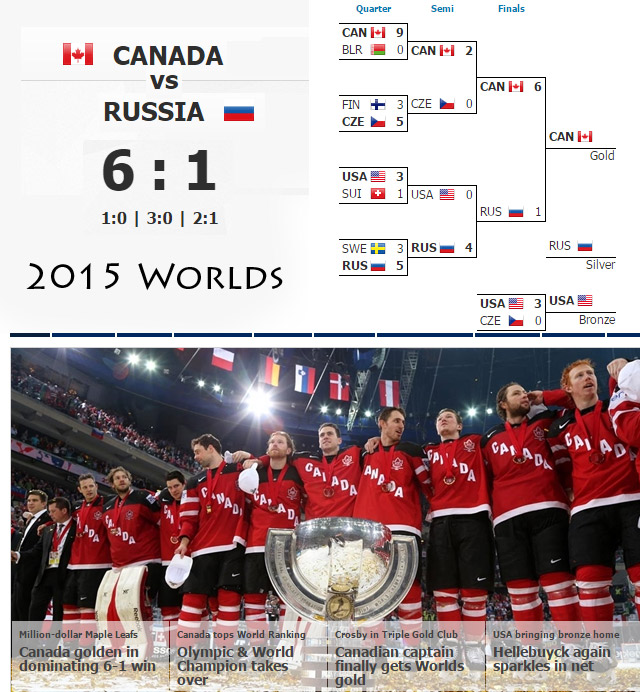 Canada has had a gold drought at the Worlds (IIHF) since 2007. This year's team was stacked with talent at all positions and it sure showed on the ice. Canada was undefeated in the tournament and beat the Russians quite handily for the Gold Medal. The game against France was closer! There are a lot of traditions that make hockey a special sport. One of them is the ceremonial playing of the national anthem of the victorious nation. I was pretty shocked and disgusted to hear a good position of the Russian team left the ice BEFORE the Canadian national anthem was played. Russia is getting a lot of bad press for this classless move. The IIHF is fining them as well I believe… It is interesting to note it was mostly Russians from the KHL that left the ice… Many Russian players from the NHL stayed out for the anthem. +1 for the Great Eight and Malkin and those who stayed out. Even some of the Russian brass were disappointed with the antics of some of the players: Russia's general manager, Andrey Safronov, called the incident "a shame." Hmmpt.
It was a long weekend here in Ontario. Saturday I spent most of the day doing yard work. For a few brief hours on Saturday the lawn had no dandelions. More have already returned. Sigh. During the weekend we watched two decent films: Black Sea and McFarland USA. I like submarine/war movies so Black Sea, especially the second half of the movie, I found to be quite entertaining. ⭐⭐⭐½ The story behind McFarland was pretty inspiring. ⭐⭐⭐¼ It was light but certainly enjoyable. Surprisingly we picked two decent movies on the same weekend. Huh.
We were fortunate to be invited to my sister in law's cottage Sunday. It was a perfect day! The weather was warm, sunny and bright. We enjoyed two boat rides and several yummy meals. It is remarkable to see how our nephews have grown. The eldest now is quite independent and responsible. In the evening we made Smores! Bdot proved her patience with this golden brown gem.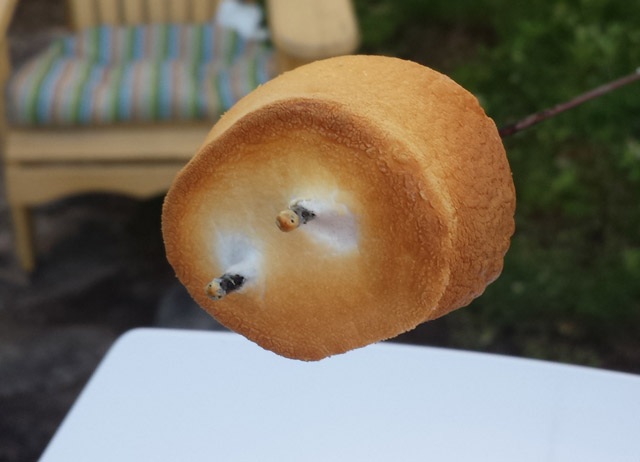 The S-i-L has a nine month old Portuguese Water-hound named Lily. She was rambunctious most of the weekend in a fun, playful way. It was quite a contrast to their neurotic last dog. Lily was even able to enjoy both boat rides.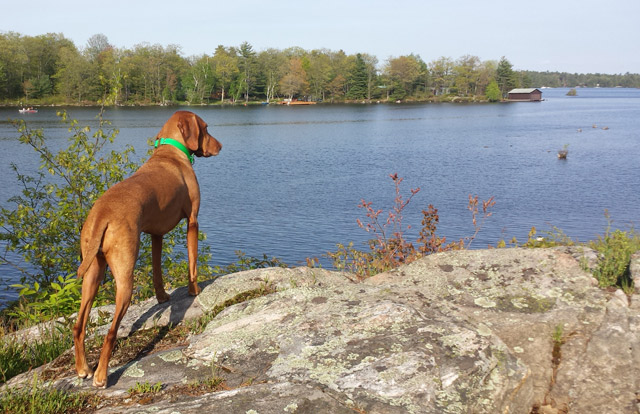 It was a fun weekend.
Wow…. David Letterman's last show is tomorrow… I've watched it on and off throughout his very long run. Of the Late Night hosts he was always my favourite. Late Night TV will be different without him.