Falling for Fall
September 24, 2012 @ 11:09 pm 🔗 Post Link
bdot, friends, hiking, Get the Gringo, Mono Cliffs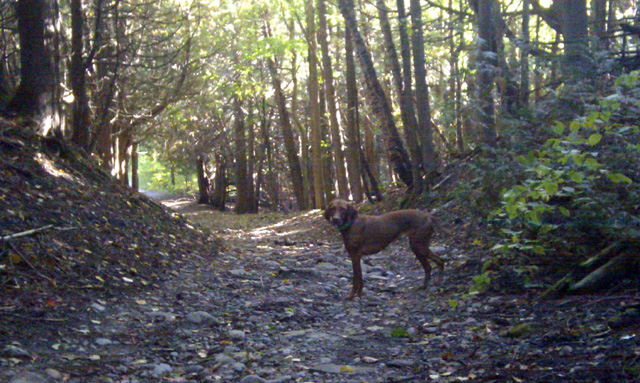 We are closing in on the wedding day, down to about three weeks! So there is a lot of running around and finalizing of various things going on. This weekend was no exception. We had wanted to get up to the venue Saturday but bdot ending up having a make-up appointment that ran into the afternoon. Instead we opted to take advantage of the glorious weather and went up to Mono Cliffs Provincial Park for a nice hike. It was such a nice walk I added it to my hikes page. After the hike we drove down to Orangeville down HWY 10 to Blind Line. We've never entered into Orangeville from the North and we were impressed with the older subdivisions we passed. Yes, another point for Orangeville. We made a few stops, bdot got more wedding wine, I got bread for dinner then we both indulged in a Starbucks. Fall has certainly arrived. My sandals are in the closet and the thermostat has been switched from COOL to HEAT.
In the evening we watched Get the Gringo a new Mel Gibson action movie. Gibson plays a career criminal who winds up in a curious Mexican prison which functions more like a little walled-in marketplace. I guess there were subtitles with parts of this film, unfortunately I didn't copy the file over… so we missed some of the specifics of the story. You can get the gist of it… Man angry! Man going kill! RarrH! Still I think I should have got off my ass to get the file. Mel has made a few dogs lately but he was pretty convincing in this role. The prison was gritty and curious and constantly implied massive underlying police and government corruption. Gibson's character befriends a young boy in the prison and eventually that plot line takes over. It was better than I was expecting. ⭐⭐⭐½
We spent most of Sunday at the Upper Canada Mall in Newmarket. I met KK at the Bay to pick up our new suits. So the Men are good to go. KK took off for his son's sixth birthday party and bdot started to shop… Shoes, sweaters, make-up, bed sheets, winter coats… I think we were at the Mall for close to five hours. After all that time standing on concrete (in crappy shoes) my back was ablaze. When Subaru seats seem comfortable then you know you've been standing too long. The evening was pretty chill. I walked the dog while bdot got her stained glass workshop in order. We are still hoping to have stained glass table markers for the wedding. Tic-toc however… I did an hour of dev side work then gamed a bit. It was a busy but enjoyable weekend. I'm glad Fall has arrived.