First Ride
May 20, 2020 @ 09:05 pm 🔗 Post Link
Biking, geeky, hiking, pets,Boyne Valley Provincial Park, Ryzen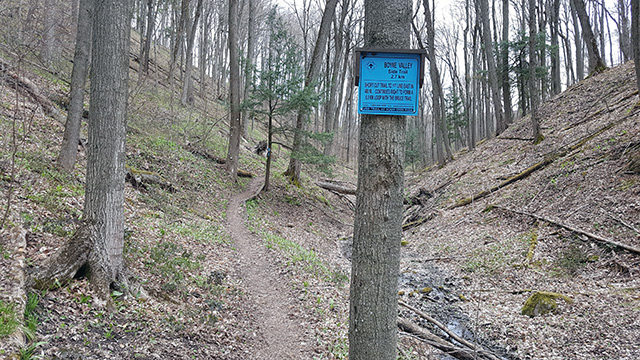 We are slowly emerging from our captivity. Our provincial park have reopened so we immediately took advantage of this. Last weekend we drove up to Boyne Valley. There is a lovely section of the Bruce Trail that runs through it. Bruce trail inside the park is open, Bruce Trail outside the Park is not. It sure felt like an eternity since the last time we were hiking somewhere not local. We only walked a few kilometer but it felt much longer marching up and down the valley. We came across a few people, all were respectful of space. During the walk we heard an odd rhythmic thumping sound on the ground. It was made by something big, I assume a machine but I've never come across anything like that before. We didn't see what it was but it vibrated across a good distance – whatever it was. Very odd. It was great to get some air.
We also had our first human visitors since the Covid crisis started. My sister and BiL cam over for dinner and a short visit during the weekend. It was curious having people in the house for the first time in weeks. Do you hug? Do give a handshake? We did neither. Just *air hugs* which are very unsatisfying but necessary I suppose. We talked about dogs and bikes and Zwift. Also did a quick call to my Mom. We'll have to figure a way to see her in the near future as well.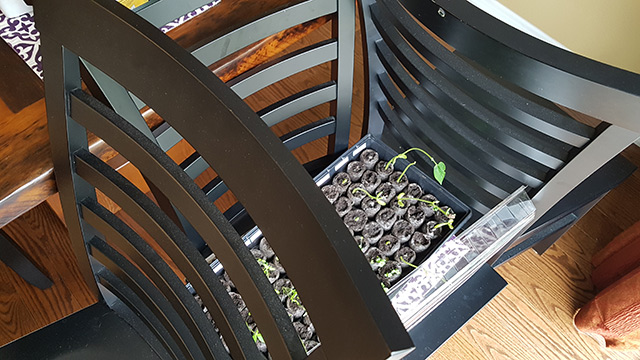 Since we want to make fewer trips to the store. We thought it would be good to grow our own food. So of course the cat assumed the new growth was for her to destroy. So we had to barricade the plants inside a chair fort. Damn cat.
Apparently Puppy Day is June 20.
We originally wanted to go biking not hiking during the weekend but the bikes said no. Both had flats so we had to take them into the shop. I expect we'll be able to bike somewhere this weekend.
I've started the process of a new computer build. After 4 Gens of upgrades I figure it is time. With the new AMD Ryzen chips it is hard not to. Powerful budget processors now rival top end chips from 3 Gens ago. It is a good time to be a tech enthusiast. I don't have a CPU loyalty. I buy the best chip in my price range. Today that is looking like Ryzen 3300X or 3600. The 3300X comes out tomorrow – so I'll see where the pricing ends up versus the 3600…. I really enjoyed my last MSI board so I went with MSI again. More details to follow.